4

MIN READ
Microsoft has rolled out a new feature —Skype Meetings—
a free tool
to host online meetings providing small businesses with real-time audio and HD video conferencing. Launched as a browser-based version of Skype, it comes with collaboration features like the ability to share screens and content during meetings.
How does it work?
To start a meeting, the host has to share a personalized link to participants through Skype Meetings, which acts as an invitation to join the meeting. Clicking the link plugs the user on to the meeting. With this new feature, participants can IM, share their screen or PowerPoint presentation, or use the laser pointer and whiteboard features to make it more engaging and productive. The meeting organizer also gets professional meeting controls such as the ability to mute the audience in order to be heard.
Skype Meetings also claims to allow users to send files even while the recipients are offline. Users can upload docs, images and videos of up to 300MB in size.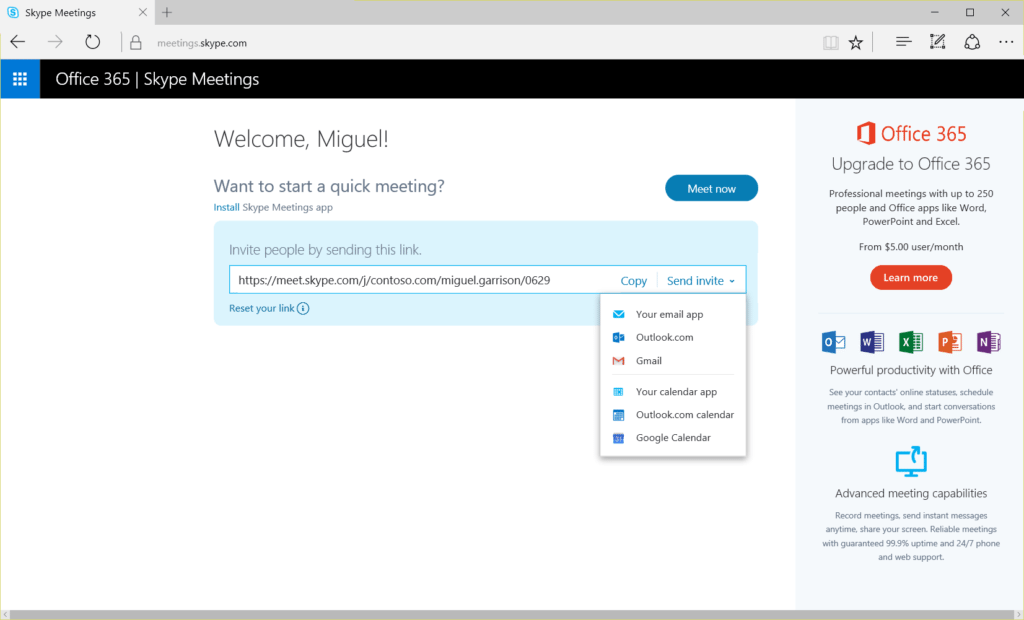 Skype Meetings appears to be scaled-down version of Skype for Businesses. While the latter can engage up to 250 participants in a meeting at a given point, Skype Meetings is limited to up to 10 participants during the free trial period of 60 days. Post the trial period, this is further reduced to a maximum of three people.
In addition, Skype for Business is integrated with other Office 365 apps that enable the user to schedule a Skype meeting from their Outlook calendar, see their colleagues' presence, and initiate an IM or start an audio or video conversation within apps like Outlook, Word and PowerPoint.
Andrew Sinclair, General Manager, Skype for Business, in an official blog post said:
If you have an Office 365 business subscription that includes Skype for Business, then you already have richer online meetings capabilities, such as the ability to conduct large group meetings for up to 250 people and the ability to IM anyone in your organization at any time—not just during meetings."
Microsoft claims that it is hopeful to derive support from small enterprises for its Skype for Business or Office 365 enterprise-focused offerings. As of now, Skype Meetings is made available only to users with a business email address as well as organizations which don't have Office 365 in the US.