5

MIN READ
Mobile games accounted for roughly 35% of total worldwide downloads in iOS App Store and Google Play, in 2016, according to a report released by IDC and App Annie Report, titled, '
Gaming Spotlight, 2016 Review
'. In terms of consumer spends in the two app stores, mobile games contributed 80% of the revenues.
China, Japan see growth
While games made up a larger share of Google Play's consumer spending as compared to iOS, consumers were seen spending more on games on iOS.
The report said that Asia Pacific gained a considerable share in the mobile game spend pie on the two app stores. Much of this growth came in expectedly from China on iOS and Japan on both the app stores.
Commenting on the spends, Danielle Levitas, SVP of Research at App Annie, said:
"2016 was the best year yet for mobile games, with consumers spending nearly 25% more than the year prior. The breakout success of Pokémon GO propelled mobile games further ahead of consoles, PC/Mac, and handheld consoles. As augmented and virtual reality technologies continue to emerge, we expect mobile will remain the largest revenue-generating platform for games."
It was the first time that mobile gaming spends overtook — about 25% higher — both home game consoles and PC and Mac gaming.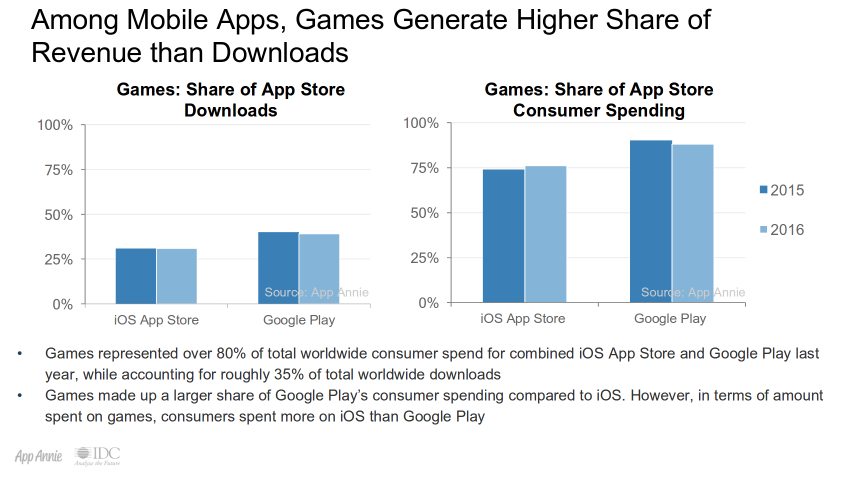 The Pokemon Go fever
If Fantasy Westward Journey, published by China's NetEase, was the top grossing game on iOS, Monster Strike, published by Japan's Mixi topped the charts on Google Play.
Pokémon GO primarily developed and published by Niantic and The Pokémon Company, launched in
July for iOS and Android, quickly became the world's first smash hit augmented reality (AR) game. It came in third in 2016 for total game spend across iOS and Google Play, despite being available for only half the year. The title generated about $950 million in direct spending in 2016. It also had the highest monthly active user base of any mobile game in every month in the second half of 2016, peaking at over 300 million active Android and iOS users in August.
It seems that similar games will debut in 2017 and that, more broadly, AR will be an important and permanent component of the global mobile app market moving forward.
"2016 was the breakout year for mobile AR games," says Lewis Ward, research director of gaming and AR/VR at IDC.
"Since a quality mobile VR gaming experience generally requires a separate hardware purchase such as a Gear VR or Google Daydream viewer, it's unlikely that mobile VR gaming in 2017 will replicate what AR gaming achieved last year. The demographics of mobile VR gamers nonetheless point to rapid revenue growth moving forward, and the fact that a large share of mobile VR gamers also enjoy eSports content implies that competitive multiplayer gaming will emerge as an important mobile VR market driver – and help put some distance between the leading suppliers and the competition."