AI will not eliminate jobs in Asia, it will deconstruct them: Report
report
'Asia's AI agenda', surveyed senior executives to make a holistic view of AI's trajectory and how it is manifesting in
Singapore
,
China
,
Australia
and
India
. The review re-examined the technology, venture capital, government and enterprise strategy trends that are converging on this region to drive innovation and adoption of AI, and how specific Asian markets are taking advantage of these trends. The report revealed that advances in automation technology are quickly changing the way Asia's companies manage and develop their human talent, forcing them to examine the nature of jobs in the region. Having said that, the survey cites that AI, when deployed correctly, will not eliminate jobs so much as deconstruct them and reorganize them around groups of competencies, enabling both humans and machines to work in more productive ways.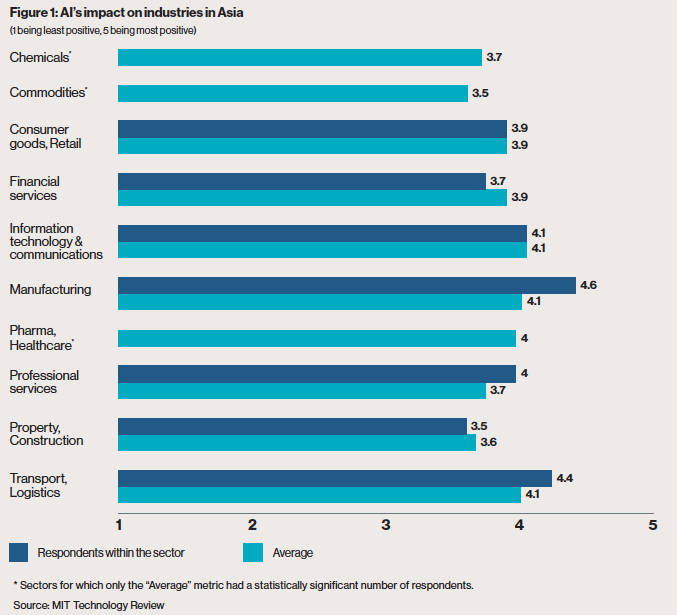 Interestingly the HR executives surveyed felt that adoption of AI and robotics will result in significant job losses in Asia over the next five years. Unsurprisingly, nearly all these respondents felt this would soon have a major impact on their roles and functions. Specifically, they expected to move into broader, and more strategic, productivity management roles. They said they believe that their roles will encompass the management of both human and artificial talent in the next five years.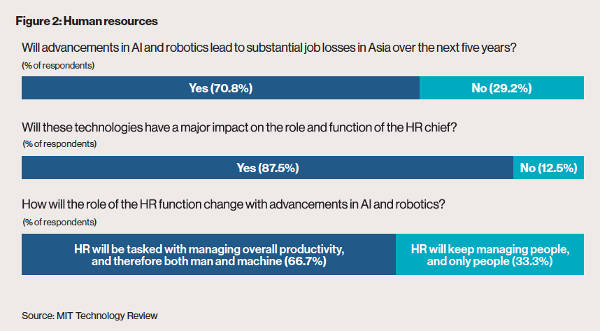 The report cites that in each of Asia's economies, AI and automation are already changing the ways firms manage and develop human talent. While Australia is fostering AI development in healthcare, financial services, and in a green-economy focus on energy and utilities, the skills and talent pools created by India's IT ecosystem are seen as an asset that could make it a globally competitive producer of AI software and applications. Significant AI research and investment in China give it a real possibility of securing a leading role in defining AI globally and Singapore is keen to future-proof its economy through AI, leading to a focus on applications poised to redefine the city-state's role as one of the world's most important finance centers. Respondents felt technological advancements in AI and robotics will have very positive effects on most industrial sectors in Asia. While much of Asia lacks the depth of technical skills and R&D facilities needed to keep pace with AI development, there are significant pockets of the 'natural resources' Asian economies need to promote and develop their own machine-learning capabilities. Despite this, the report's survey found that only a small percentage of global firms are currently investing in AI development in Asian markets specifically. Where 18% have invested in automation or robotics, only 13% have invested in AI. 43% respondents state that they do not plan to invest in automation or robotics in Asia and 50% claim that they are considering investment in AI in Asia.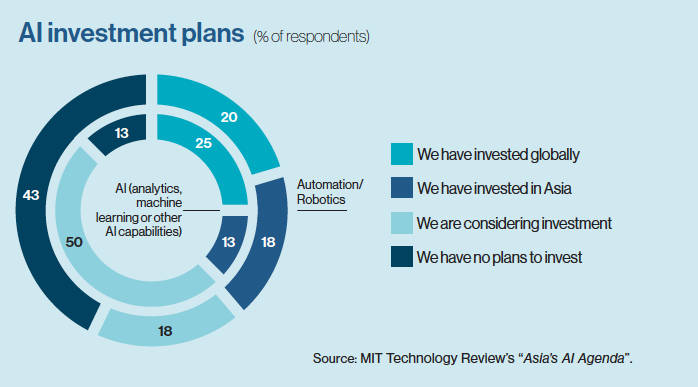 The report states that China, India and other large Asian economies generate a copious amount of data, which is critical to pushing AI's capabilities forward. Australia and Singapore, despite their small sizes, each punch well above their weight in the development of 'indigenous' AI R&D resources, and have clear visions for how machine learning can complement and enhance the competitiveness of their established leading industries. The report claims that at a time when Asia as a regional economy is poised not only to benefit greatly from advancements in AI but also to define them, India faces a specific conundrum. The country's IT businesses have been at the front line of the world's war on inefficiency for so long that they are entrenched in traditional technology development processes, from which they are struggling to untangle themselves. The survey suggests that freeing up talent to develop more cutting-edge applications relevant to AI will require extreme openness on the part of business leaders. These leaders will have to actively collaborate in data analytics projects, share best practices and insights, and champion the integration of automation and machine-learning-based process improvements into their firms' broader talent management programs.

Ironically, given a common presumption that AI will be responsible for disintermediation of jobs at all levels, it is Asia's massive human capital dividend—the billions of constantly Internet-connected workers and consumers –that will propel AI development in the region farther and faster. AI may start to dis-intermediate roles and responsibilities across Asia's economies, but it will enhance and redefine far more capabilities, and increase the productivity of all firms and workers.