AirMount: A better and valid competitor to AirDrop?
app
that allows the user to drag and drop photos, videos and files between an iPhone and computer, wirelessly. Currently available for Apple — iPhone, iPad, Mac — and Windows devices, the app applies a 'pull' approach best achieved by making the phone's entire photo library accessible from within the native file manager of the computer.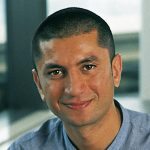 "In case of iPhone and Mac, you don't even need to have the devices on the same WiFi network. As long as your WiFi radio is turned on both devices, AirMount is able to set up a direct WiFi network between them. So it works everywhere," says Neeraj Jhanji, the Founder of Tinker — AirMount's parent company — a mobile applications company and an incubator for tech startups operating from Singapore & Palo Alto.
Tinkering history
Before founding Tinker, Jhanji founded the world's first mobile social network in Japan called
ImaHima
, which was a mobile service that allowed users to share their location and status with their friends. ImaHima's patents were later acquired by Facebook, which now uses the technology to power its popular 'Facebook Check-In' service on smartphones. Apart from helping tech startups as an incubator, building innovative mobile products, and spin-off ventures, Tinker also builds its own products; AirMount being an example. One of the first in-house products from the company's stables was
Pasteasy
, an application that helps the user to copy-paste data from one device to another, considering the devices are in close proximity. One can transfer documents, texts, videos, music, and images from the phone to your personal computing device or vice-versa, available on Android and iOS devices.
How does AirMount work?
Can AirMount be called an extension, or improvement of Pasteasy? Jhanji says that the underlying networking technology that is in use is wireless mesh networking.
"It is similar to AirDrop but more reliable and powerful. In case of Windows, we connect the devices using the local WiFi network. As a result, large files such as photos and videos can be transferred directly and without delay as compared to uploading to the cloud. You don't need a USB cable or intermediary software or steps. We call this technology NearNet," he adds.
The photos and videos are directly accessible from the Mac Finder or Windows File Explorer. Here again, AirMount does not make a second copy of the photos and waste disk space. One can select and copy (drag and drop) only the photos that are needed, which is handy for professionals in sales, marketing or design. The application has the ability to connect over WiFi without needing to join a WiFi network (in case of Mac). One can browse entire photo library from the Finder or File Explorer without creating a duplicate copy of the photos. It hosts cross-platform compatibility and speed and privacy since all transfers are local.

Who is it for?
According to the company, AirMount capability should be part of the native OS of the various platforms, so users don't even need to install an app and everyone can use it for free. At the moment, the focus is on marketing to prosumers, professionals and business people working in the domains of marketing, sales, media, design and technology.
"Currently our focus is expanding the platforms we support. Windows' has been just launched and we want to make it more mature. We think the time is ripe for getting the word out and supporting various business use-cases, as well as integrating with other platforms and services," says Jhanji.
Toe-to-toe with peers
If AirMount competes with AirDrop on Mac, on Windows it competes with iTunes, but Jhanji believes that syncing the entire phone on Windows for copying a few photos is too much of an effort. Taking UI/ UX into consideration, Photo importing software like Image Capture, iTunes or Photos app are also peers in the same category, but Jhanji thinks they require too many steps. Cloud drivers such as iCloud, Dropbox, Google Photos can also be competitors but they are slower when dealing with large media files that are on the device nearby.
"Actually, there is no good solution on Windows to be able to browse and access the entire photos and files on your iPhone. If you want to quickly browse your photos directly from the computer and quickly grab what you need, AirMount has no direct competitors. iPhone does not even have a file manager, so we even created one inside the AirMount app," Jhanji appends.

What's in store for the future?
Currently the company is focused on the product-market fit and user adoption on the platforms it supports. But it has plans to bring AirMount to Android and Linux devices too. Jhanji also thinks that NearNet will become widely adopted in the future in all sorts of devices and applications.
"One day, I would love to see this technology integrated into native functionality of iOS, Android, macOS and Windows. It also makes sense for IoT as a universal replacement for Bluetooth once WiFi Direct (mesh networking) becomes an interoperable standard."