Food for delivery startups is what books were for Amazon: Zirra report
startup
itself which has developed AI and machine learning technology to analyze the private tech market, states that investors are hungry for companies around the delivery space and on-demand companies, especially online food delivery services, are still considered by many venture capitalists as trendy, bubbly, and an ambitious investment. Zirra states that last August, UK based food delivery startup, Deliveroo, rasied $275 million in equity funding, and in February 2017, Instacart completed a round of investment with $400 million. The AI analytics startup states that many companies in the space are experiencing heavy losses and are struggling hard to grow, a possible consequence of the low barrier of entry. However, marketing and advertising activities of food delivery startups has seen an increase as smaller players are seeking a buyer, sometimes at any price. But, slowly and surely, some companies are surpassing the clutter with out-of-the-box ideas, quick technology adoption, supply chain management, marketing and food quality.
Top 10 list
According to the report
Ele.me
rasied $1.25 billion in 2016 and is the top delivery startup in the list. Its paying user base is steadily increasing and the company is also expanding its product offering. Zirra values the startup at $5.4 billion and states that since established players are already dominating the market Ele.me will have to display a strong USP to surpass the clutter.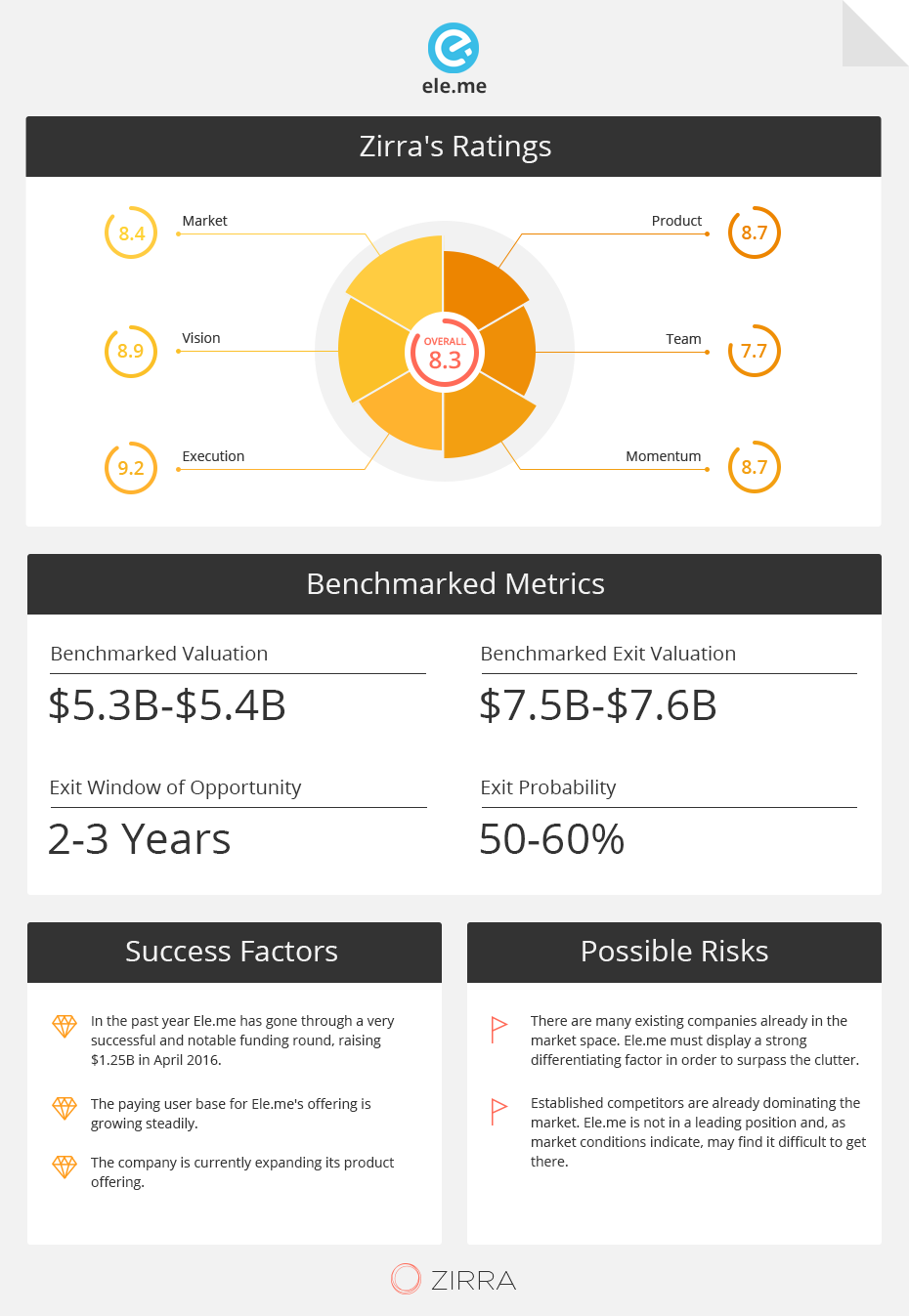 Number two on the list is
Instacart
with $3.3 billion valuation and a 50% exit probability. Zirra states that the startup has been able to secure a niche that it can contain and protect as well as has a significant cash repository that it can use for expansion and growth. The flipside is that the startup has been increasing the price of its products and services which may result in the loss of customers.
Delivery Hero
stands number three on Zirra's top 10 delivery startup list with a $2.9 billion valuation. With an exit valuation of $4.7 billion, Zirra claims that Delivery Hero has expanded and added to its capabilities by acquiring a number of companies which will help it expand to new markets. However, the company's social activity does not garner enough likes, shares, comments, reviews or hashtags.
Deliveroo
is number four on the list, and according to Zirra is in the hiring round which indicates further growth and expansion. The company has also seen a rise in employees and growth abroad, which add to its success factors. Valued at $1.3 billion, the possible risk that Deliveroo faces is that it is significantly reliant on theird party sites or services.
Zirra lists Dada as number five with a $1.3 billion valuation,
Hello Fresh
at $1.2 billion,
Postmates
at $1 billon,
Blue Apron
at $800 million,
DoorDash
at $600 million and
Plated
at $450 million. The AI analytics startup states that the US food delivery market is currently $1.4 trillion a year and only 1.4% of it is addressed by mobile by these startups. Other companies such as
GrubHub
,
Just Eat
,
Yelp
, as well as
Amazon
and
Uber
, who are now trying their hand at grocery and meal delivery will soon try to cash in on the untapped opportunity.

Insights
According to the report, food is for some of the delivery startups is what books were for Amazon; one category mastered before moving on to other categories. For example Instacart partnered with Target and Costco to offer various products beyond prepared food. Postmates couriers, who are more famous for meals delivery, are starting to deliver items from Apple Stores and will soon start to work with local groceries, that will allow it a deliverable grocery inventory of about 200 basic items.
Zirra states that the delivery service is a territorial and scale-based industry allowing non-US startups to compete and thrive with American players on their home base. According to Zirra, delivery startups such as China-based Ele.me, Germany-based Delivery Hero and Hello Fresh, expanded to the US, competing back to back with local services like Blue Apron. Other startups such as London-based Deliveroo, is expanding outside of the British Isles into Asia and the Middle East.
Today's delivery startups, are leveraging the sharing economy and the existing infrastructure of grocery stores to their service. They focus on customer service and delivery and use sophisticated algorithms to optimize the matching of orders with the couriers. Also, they focus on a customer base that is willing to pay more for convenience, in general, an audience of young professionals.
According to Zirra, restaurant owners that offer only delivery service are realizing more and more that property costs for a kitchen are significantly lower than a restaurant as you don't have to have a prime location or space for diners. Delivery companies, such as UK-based Deliveroo's Roobox, are taking part in the trend to offer a delivery service for kitchen-only restaurants. A Kitchen-only attitude can solve problems like lunch rush hour for restaurants that serve large businesses, or for an expansion to new cities.