Indian mobile ad fraud 2.4x higher than the globe, costing marketers $350M: Report
TUNE
, citing a recent study of mobile ad fraud. The company claims to have used its anti-fraud technology to study 24.3 billion clicks via 702 ad networks and 437 million mobile app installs across 131 countries from January to June 2017. The study was conducted for tracking mobile fraud trends across the globe and Indian market. The report states that click fraud across the mapped ad networks stood at 15.17% of which 35 ad networks experienced 50% or more cases of ad frauds. In terms of mobile app installs, 10% witnessed a scenario of ad fraud and eight out of the total ad networks studied turned out to be 100% fraud. The report also states that 23.3% of ad networks have significant fraud levels over 20%. According to TUNE, ad fraud exists in many different forms. In India, mobile app install fraud has become a major problem. Because of the region's massive smartphone explosion, app publishers' desire to grow quickly, and fraudsters who are gaming the system. The company states that there are three basic types of app frauds in the country:
Click frauds:
where a smartphone owner downloads and installs a real app on a real smartphone, but a scammer fraudulently takes credit for the install. Sometimes called click stuffing or click spamming, it occurs when scammers fire off fake clicks from non-existent or invisible mobile ads, increasing their chances of being seen by marketers as the source of an install. Or, scammers invent completely artificial clicks that are sent server-to-server to mobile measurement platforms, again hoping to take credit for app installs that happened naturally and normally.
Install fraud:
where the click is fake, similar to above, but the app install is fake as well. This could be an install farm, a place with hundreds or thousands of mobile devices operated by software or people who repeatedly install apps to claim advertising credit, or it could be an entirely software-based business.
Compliance fraud:
the click is genuine and the user is real, but it's the wrong user geography or user profile. In other words, a marketer paid for app installs in Delhi, but gets app users in Goa.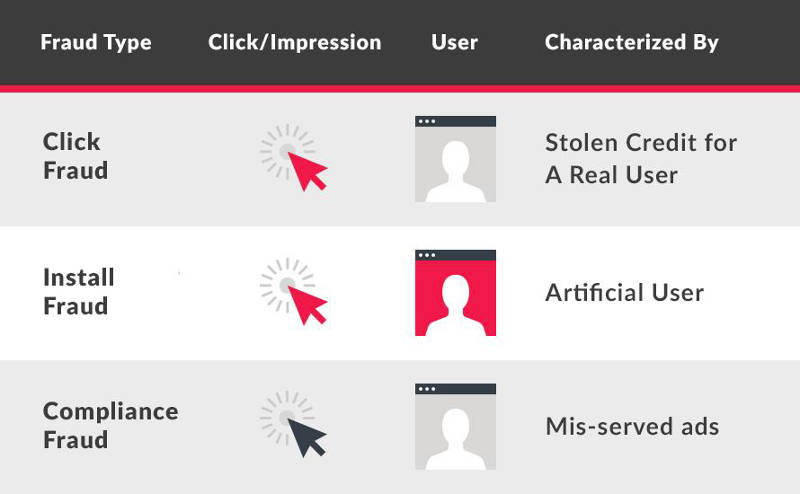 Apart from these three, there are other non-app-install frauds such as; viewability fraud, targeting and compliance fraud in display advertising and bot frauds. TUNE claims that in all these cases of frauds marketers are spending money for fake marketing and scammers profit. According to the report, even though the global mobile ad fraud averages around 15%, but if the Indian ad networks are subtracted from foreign ad networks, which do business in India, the global ad fraud dips to 13.6%. However, ad fraud in the Indian subcontinent alone stands much higher at 31.9%. TUNE's report states that if ad fraud is not curtailed could cost Indian marketers $350 million, implying that mobile ad fraud in India is not only 50% higher than the global average but also 2.4X higher as rest of the world. According to the study, last year globally, marketers lost over $7 billion to ad fraud last year. This year, Adloox estimates that ad fraud will more than double, costing advertisers over $16 billion. eMarketer estimates that digital ad spend will grow about 12% this year and hit $1.2 billion in India, which still only accounts for 14.3% of total media spend in the country. Almost all of that digital ad spending will be on mobile. When it comes to mobile app installs fraud globally, Guatemala tops the list with the highest degree of mobile app install fraud at 23.65% and Poland has the lowest app install frauds with 1.57%. India on the other hand is in the top 10 list of highest app install frauds according to the report. With a sample size of 100 million installs, the country has witnessed 16.2% app install fraud cases.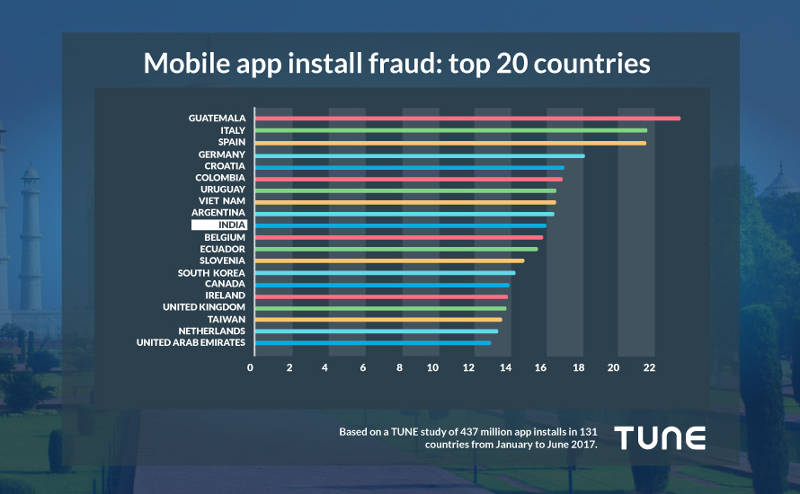 "The rise of startups in India and the accompanying influx of funds from venture capitalists are driving entrepreneurs to build mobile apps and solutions in an effort to capture new market share," said John Koetsier, Mobile Economist, TUNE.
"As such, the pace at which Indians downloaded apps in 2016 was 71%t higher than in 2015 – and our data shows that segments like mobile gaming in India will double revenues by 2019. But the growth of the mobile economy in India comes with a sizable amount of ad fraud."
As per the TUNE report, sub-publishers and re-brokering are the two industry practices that are the reason behind fraudsters finding and exploiting the system. In some cases, re-brokering happens more than once especially to sub-publishers resulting in poor quality traffic, poor-quality clicks, app installs, views or straight-up fraud. On the other hand, the report states that many ad networks experience very low percentages of fraud, including plenty at 2% or lower, and a large number at sub 5%. The report states that half of the 500 plus ad networks that have significant traction and traffic, have less than 5% fraud cases. However, the higher percentages of fraud in about 35 ad-networks bring up the industry average.