Tech hitting sixes this IPL season
Indian Premier League
(IPL) is celebrating a decade of existence and companies from various sectors are planning to cash in on the two month tournament. From players' helmet cameras to special cricket star Twitter emojis and several collaborations & sponsorships, technology players seem to be going gung-ho about IPL 2017. Some are trying to bring the cricketing experience closer to the fans, some are taking the community engagement route and some making the tournament easier to follow. Here is a short list of all that is happening when it comes to technology leveraging this IPL season.
Microsoft Bing
For the IPL season this year,
Microsoft Bing
has launched a new search experience for cricket fans in the country. As soon as users search for IPL on the search engine, Bing presents a new tailor-made experience that lets the user see IPL 2017 match information, scores, season schedule and points table. Along with this Microsoft Bing has gone a step further to offer Bing predictions during the match which will be presented as prediction graphs.
Twitter Lite & Vodafone
Twitter has globally launched
Twitter Lite
, which enhances mobile web experience with 30% faster launch speed, reduced data usage up to 70% with data saver mode turned on, and a consumption of less than 1MB on mobile devices.Telecom provider Vodafone, being the first global launch partner will be providing a customized timeline of top cricket-related news via this new feature to the telco's customers throughout the IPL season. Vodafone users who are cricket fans will receive an SMS alert with a link to the special curated timeline on Twitter Lite where they can get live updates of the IPL season.
Thank you @VodafoneIN, our first global launch partner for Twitter Lite! An innovative way to provide live T20 cricket updates in India. pic.twitter.com/vrNM2OohqJ

— Twitter India (@TwitterIndia) April 6, 2017
A new Vivo Smartphone
Vivo being the sponsors of this season's IPL have also launched their limited edition
Vivo V5 Plus Black Matte IPL edition
smartphone that features the IPL logo on the back of the device. The device will hit stores from the 10th of April and will have pre-loaded customized application icons based on Cricket. The rest of the features of the phone such as 5.5 inch HD display, Qualcomm Snapdragon 625 chip, 4GB RAM with a 20MP camera among other will remain the same as other V5 models.
Helmet camera may debut
To bring IPL fans closer to the action, the season 10 may be featuring cameras on top of players' helmets. A Hindustan Times report states that umpires on the pitch wore cameras but this time it will be making a debut on the helmet of batsmen. Helmet cameras are not uncommon; the Big Bash League, Australian counterpart of IPL T20, practices streaming from helmet-cam. According to the report the entire console including the battery and camera weighs less than 100 grams and is still awaiting affirmation from the BCCI.
Rooter supports Gujarat Lions
Sports social gaming platform,
Rooter
, has partnered with Gujarat Lions team to create a host of features on its platform to connect and engage the IPL league team's fans. Users will be able to view customized homepages, chat forums and profile pages. The company also revamped its UI that features cricket right on the screen for fans to quickly connect to the team they support. According to the company, the interface has a 'connect with' tab that allows Gujarat Lions fans to engage each other in a digital forum.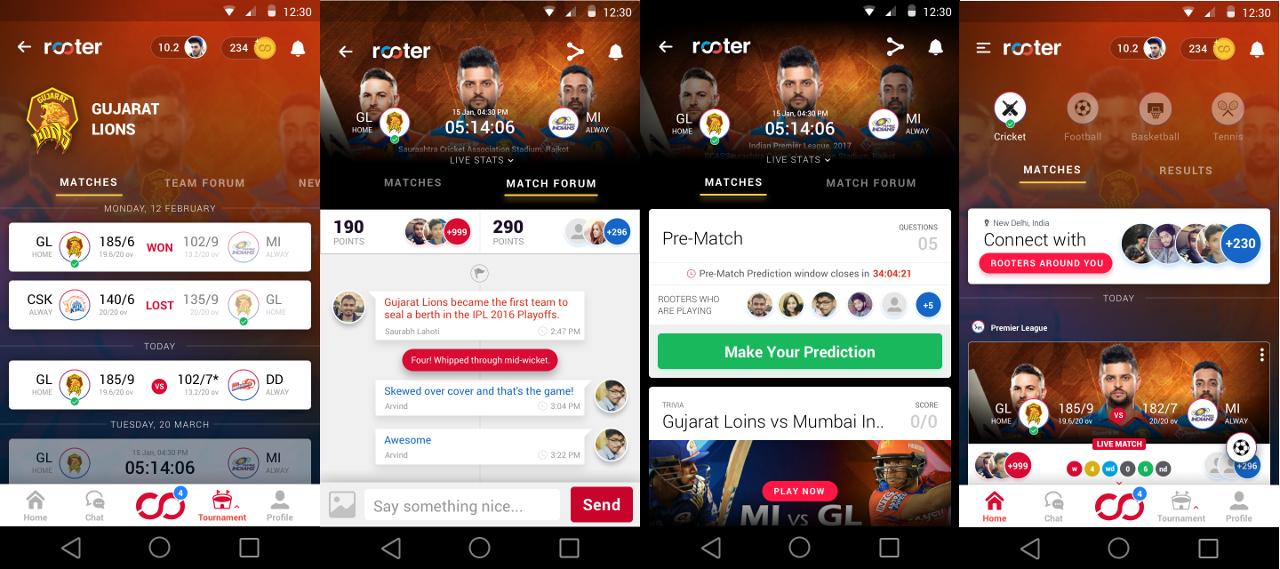 First ever Twitter emojis
IPL and Twitter have also entered into a partnership to release 30 emojis representing cricket players. Fans will be able to unlock the emojis by tweeting using the player's hashtag and an emoji representing the player will appear. But here is the catch; these 30 emoji's are only representing the most popular cricket players and not all the players. According to the association, these tweets with the hashtags and emojis will eventually count towards the daily IPL player twitter battles which is showcased during the live broadcast of the game.
FAN ALERT: A first for #Cricket. Special @Twitter emojis for #IPL's biggest superstars. Go on, Tweet to unlock your favourite player's emoji pic.twitter.com/HUbz9hQbYZ

— IndianPremierLeague (@IPL) April 5, 2017
Tech partners and sponsors
Apart from Vivo, other tech players like Acer, Amazon, Vodafone, Sony, Gionee, MakeMyTrip have also signed on for sponsoring the 10th season of IPL. Just from an advertising point of view Gionee has taken become the presenting sponsor of Royal Challengers Bangalore team, interestingly, it also is the principal sponsor for Kolkata Knight Riders team, becoming one of the only companies to sponsor two teams. Computing device manufacturer, Acer, on the other hand has renewed its sponsorship deal with Royal Challengers Bangalore as its technology partner, looking to connect with the youth.