Only 15% ITSM professionals think AI will replace them in next 3 years: Report
report
published by ITSM.
tools
and
ManageEngine
. In the second quarter of this year both companies surveyed ITSM professionals to understand the potential future challenges of ITSM and opportunities that IT professionals and their companies face.
Tough road ahead?
Even though a large majority of respondents believe that working in IT will get tougher, only 15% didn't think that their life would get harder. According to the report, respondents feel that some IT roles are getting harder than the others. For instance, service desk agents are usually under far greater scrutiny (and pressure) in terms of performance metrics and targets than most other, if not all, IT roles. Whereas in some areas, such as the management of legacy IT systems, roles might be viewed as being under less pressure and less likely to change. The report highlights that 25% of respondents feel that their efforts and value are sufficiently recognized by management. Almost 50% think that they do get recognized but not enough, and 25% think that they don't get recognized for their work; giving a total of 75% respondents who feel undervalued.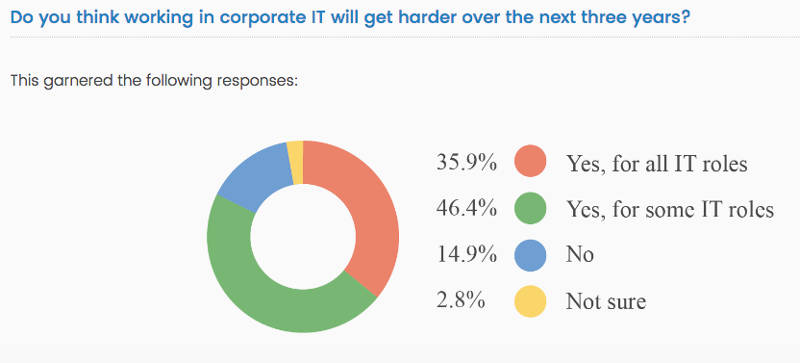 Global politics an influencer?
Nearly 30% feel that the current local and global political climate is adversely affecting IT recruitment. About 60% of respondents are expecting current and future political decisions to adversely affect the recruitment of key IT staff in at least some geographies. The questions were triggered by immigration policies that are increasingly playing a key role in political policies, and voting, globally. Examples of this include the Australian government's restrictions on the jobs that can be filled by foreign workers. The UK vote to leave the European Union, and the Republican victory in the US.
Can AI replace IT jobs?
According to the survey only 15.5% think that AI is as a major threat to IT jobs. 44% respondents feel that AI in the next three years will reduce the number of IT jobs but not dramatically and 32% feel that AI has absolutely no threat to IT jobs in the coming 3 years. Interestingly, 2.5% of the respondents had no clue about artificial intelligence. The report suggests that AI can be seen as the next evolution of automation, following data center automation, ITSM-process workflow automation, and orchestration. The survey states that AI can add 'heavy thinking', especially through machine learning, to the existing 'heavy lifting' benefits of more traditional automation.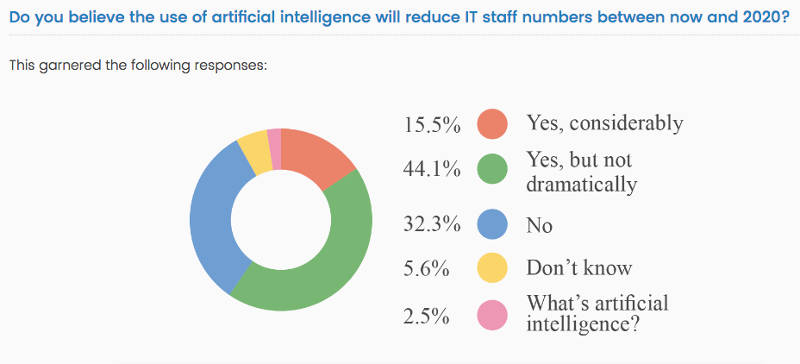 Best practices taken seriously?
Only 24% of ITSM professionals show confidence in the existing ITSM best practices, including ITIL, making a strong case for their revamp. While only 5% of respondents feel that ITIL and other published ITSM practices are irrelevant, roughly 66% believe ITIL and other ITSM best practices have failed to keep up with the changing ITSM landscape. These findings reinforce the need for ITIL to reinvent itself to keep pace with the changing trends in IT. "It's interesting — and worrying — that 82% of survey respondents believe that working in IT will get harder over the next three years. There are multiple root causes, including nearly two-thirds of respondents think that the current local and global political climate is adversely affecting IT recruitment," said Stephen Mann, Principal Analyst and Content Director, ITSM.tools.
"Only 24% of respondents think that existing ITSM best practices have kept up with the changing IT and business landscapes; and 77% of respondents think that there is still more to be done to meet the expectations of millennial employees. Ultimately, as an industry, we still need to invest more in getting modern IT support right."
Millennials and their needs
Interestingly, while 57% of ITSM professionals feel that their IT teams deliver equal or better service than consumer-facing companies, 77% also believe that they need to do better to match the expectations of the incoming workforce of millennial. This conflict raises a query as to why there's such a discrepancy, with possible causes being that respondents, and their companies underestimate the impact that consumerization is having, and will continue to have, on employee expectations of corporate IT. Rate the wants and needs of Millennials higher than the needs of older employees who have also had their expectations raised significantly by their personal-life experiences of services, customer service, and support. Either way, the report suggests that IT departments has to better understand the needs of all end users and how well existing capabilities are meeting those needs. "The ITSM industry is continually evolving in response to its micro and macro influencers, like technology, people, practices and government regulations," said Rajesh Ganesan, Director, Product Management, ManageEngine.
"Being aware of potential future challenges and opportunities helps ITSM professionals stay relevant and responsive to changing landscapes in IT and business, giving their organizations a competitive edge."