MediaMath partners MobileWalla to launch AudiencePLUS for APAC
marketing and advertising solutions
to digital marketers has announced the introduction of AudiencePLUS (APAC), on its TerminalOne (T1) Marketing Operating System platform. This is in partnership with
MobileWalla
, a Big Data-powered, mobile advertising and consumer intelligence platform, which claims to enable marketers to better identify and target individuals through more than 120 audience segments. Commenting on the partnership, Anindya Datta, Chairman and CEO, Mobilewalla said, "The mobile medium enables marketers to reach the most engaged digital consumers. Advertisers expect mobile campaigns to reach consumers in contextually relevant ways in order to significantly enhance the return of investment (ROI) on their advertising spend."
"We are excited to offer AudiencePLUS (APAC) on the industry leading MediaMath T1 platform to enable true one-to-one consumer addressability, and enable marketers to enjoy access to the region's first mobile audience segment on the industry's leading Demand-Side Platform (DSP)," Datta added.
AudiencePLUS will reportedly leverage Mobilewalla's '70 petabytes' of accumulated mobile consumer data to compute consumer profiles and segments. While the synergy will help MediaMath clients to target customers on their mobile devices based on multiple characteristics, such as demographics, behaviour, and location. Apparently users will also be able to create custom segments to target audiences in addition to the structured taxonomy offered on AudiencePLUS. This could possibly aid marketers to plug AudiencePLUS segments into their marketing campaigns, and further establish a digital connection directly to the mobile devices of target consumers.
TerminalOne Marketing Operating System
by MediaMath claims to channelize data, automating its execution. Essentially, a machine learning algorithm, T1 aims to optimize every consumer interaction, analyzing millions of potential opportunities per second to determine the optimal combination of audience, media, message, and price to achieve a company's marketing goals. It also packs data management including data onboarding, segmentation, and analysis.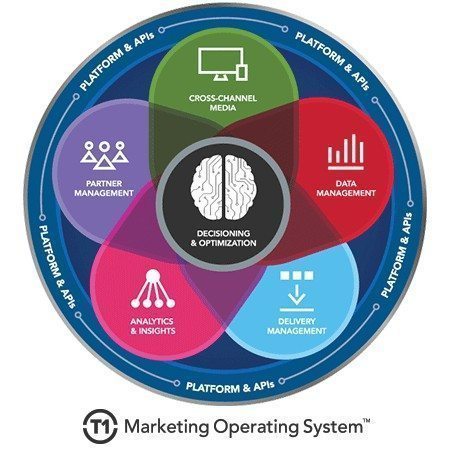 The New York-based company also offers
Helix
, as its proprietary data offering that provides clients the access to predictive audiences, exclusive insights, and consultative services to maximize the impact data can have on their marketing initiatives. Rahul Vasudev, Managing Director, Asia Pacific, MediaMath, commented, "The profile of our clients in APAC has changed significantly in the past year, and we're reaching a stage where we see the investment in mobile overtaking display and video. This does not come as a surprise, given the mobile-first nature of consumers in APAC. We've had a long history of introducing class-leading tools in the desktop world, and now we're able to give our clients the ability to replicate the same on mobile devices."
"We are extremely excited to partner with Mobilewalla to further enhance the audience targeting capabilities within MediaMath's TerminalOne platform. The AudiencePLUS data set now gives clients the ability to target consumers based on various characteristics, and will provide the end consumer with more relevant ads," he continued.
Earlier, in August, MediaMath had entered a data agreement with Location intelligence company
Cuebiq
to give its clients the ability to offer geo-behavioral targeting solutions via Cuebiq's AudienceQ offering, which was followed by another shake of hands with Samba TV to offer programmatic segmenting and retargeting of TV audiences, as a joint integration.