Ola gets lighter, taps small towns and cities in India
app
Ola Cab along with Google has launched a Progressive Web App (PWA), a lightweight mobile website that offers users, especially in tier 2, 3 and 4 towns and cities, an app-like experience on simple smartphones, that takes up a fraction of the data used by native apps. According to the company, the PWA will enable the use of its platform across hundreds of small cities in India and addresses a significant market opportunity of customers and driver partners. The PWA was announced at the Google I/O developer conference in San Francisco today. The PWA will have the reach of the web and will offer a native-app-like immersive customer experience and help Ola set foot into markets that have not yet experienced ride-sharing platforms. The company's aim is to tap hundreds of cities where there is limited connectivity and high usage of low-end smartphones. Ola feels that though smartphone and data penetration has increased over the years the Indian population using low-end smartphones with too many apps tends to slow down the phone functionality. The PWA claims to consume 50 KB data on first payload and 10 KB on subsequent loads, which Ola states will be the preferred option for cab booking for thousands of non-frequent app users. "The launch of PWA technology represents another milestone in Ola's commitment to building innovative technology that is made for India," said Ankit Bhati, Co-Founder and CTO, Ola Cabs.
"As the first ride-hailing app in the APAC region that is using PWA technology, this represents an important development that will enable us to reach an ever-greater number of customers and driver partners in rural India. We have always said that addressing market needs is a key priority and this launch takes us one step further in our commitment to providing mobility for a billion Indians."
According to the company, PWA will operate to address the local consumer needs and provide light and agile functionality. It will mainly present itself as a option for Outstation and Rental customers who will be able to access Ola on their mobile phones and desktops and laptops. "At Google, we are deeply committed to making the mobile web better for everyone. Our PWA journey began a few years ago and we are delighted to see the traction this technology has had, especially in mobile-first countries like India," said Rahul Roy Chowdhury, VP Product Management – Chrome, Google.
"It's exciting to see Ola create their PWA, which will ensure their users have an engaging experience from the very first moment."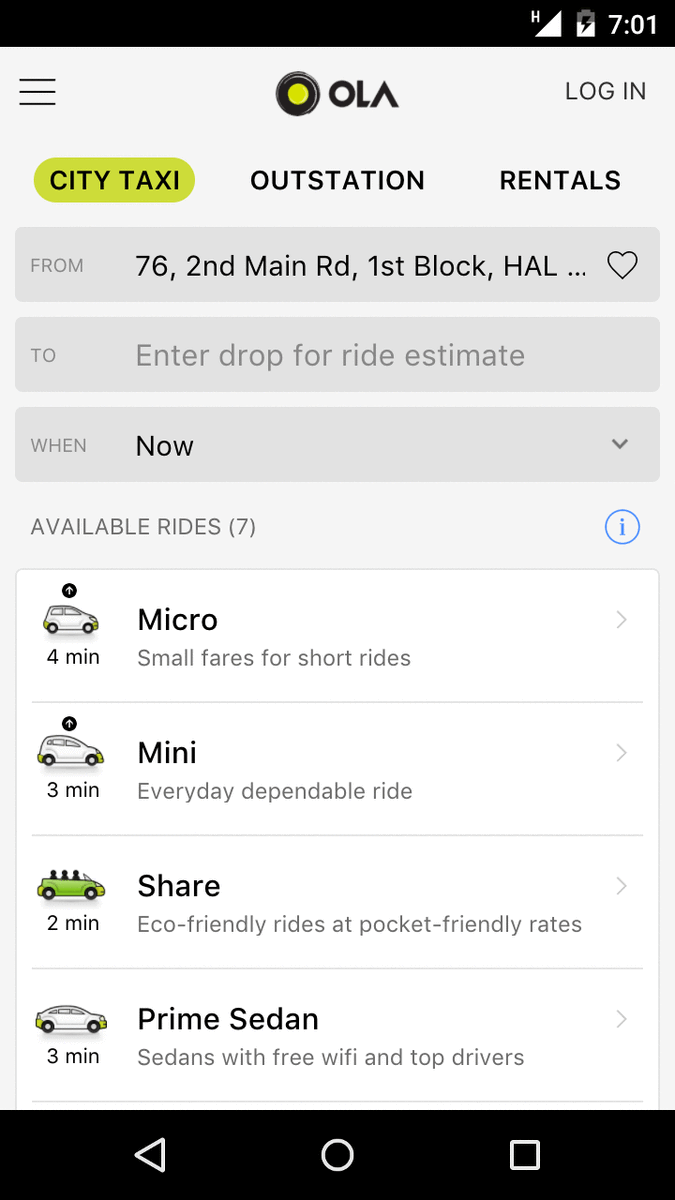 Ola's PWA will:
Use 50KB on first download, and 10KB on subsequent downloads
Operate at speed on 2G networks and also supports offline bookings. Ola claims that the initial load time on 2G is 3.4 seconds and repeat load time is less than 1 second
Behave and look like an app, providing the reach and experience of a native app
Integrate offerings such as Ola Money and Ola Care
The PWA will also allow users to book across all categories and pay for their ride through Ola Money. Other options such as OTP verification for rides, use of maps for pickup and drop location, ride later options and the use of Share Pass will also be available on Ola's mobile web browser.