Bitcoin has laid a strong foundation for other cryptocurrencies: Sathvik Vishwanath, Unocoin
In advent of this growth,
cryptocurrency startup
Unocoin has also reported a progress, drawing more than 30 top investors from five countries since its inception in 2013. Based out of Bangalore, the startup is India's first entrant into the Bitcoin industry. The company operates a BTC-INR trading platform which enables Indians to buy, sell, store, use and accept Bitcoin.
A glimpse into Unocoin's early days
Being one among the first Bitcoin companies in India, one can assume that there might have been some challenges it faced to establish the company, especially when knowledge about cryptocurrencies was scanty. Unocoin CEO Sathvik Vishwanath agrees that it was a colossal task for them to explicitly explain Bitcoin, while introducing their company. Another major challenge was the absence of any regulatory framework, which made users rather uncertain about transacting with Bitcoins. However, the times are changing today, with both – the Bitcoin transactions and its value picking up. He believes that the country has become a more favorable ground for Bitcoin and blockchain companies to operate. Last year, Unocoin raised $1.5 million in a Pre-Series-A round, which was the highest total ever raised by a digital currency venture in India. The startup has been utilizing this infusion of funds for developing its core product, whilst expanding the team and presence across geographies. It is considering to expand into MENA, Europe and Canada in the future, hoping to boost its team strength to 95-100 from 70 by the end of this year.
Were there any roadblocks?
But it has not been all roses for the company. In June this year, there was news of a Unocoin account being hacked and the user losing out a lot of money from the wallet. Vishwanath explains that the security breach was not in the management of Unocoin, its services or server.
"It was similar to someone's Gmail account getting hacked, instead of the Gmail server. Such incidents are common for any online platform as customers will not choose to employ different security measures offered by the service."
In order to combat such incidents, Unocoin has revised its OTP sharing policy. In effect of the account getting hacked, it started sharing OTPs only with the mobile numbers registered with the wallet. Subsequently, the OTPs will not be shared on the registered email-ID unless users opt-in for this. The startup is also considering the hardware based protection for users' accounts.
Should we worry about Bitcoin price surge?
We have seen a surge in the Bitcoin prices lately, with values peaking over $4000/BTC. According to Vishwanath, the Bitcoin sector currently is attracting a lot of activity and interest from users and investors alike.
"In 2016 alone, the blockchain technology has raised US$1.4 billion collectively. Yesteryear's demonetization drive further laid a stronger foundation for the mainstreaming of Bitcoin in India. Surprisingly enough, users have shown a higher interest in utilizing Bitcoin as a digital asset, giving it the status of E-gold," he noted.
But the ever-rising Bitcoin rates has put buyers in a tough spot, sparking apprehension due to the volatility in prices. Vishwanath agrees that Bitcoin is perhaps the most disruptive concept in monitory system, and perhaps the most evolved one as well. However, he thinks people should be interested in Bitcoin as it is immune to any manipulation that the normal financial system is subject to. The advantages that the cryptocurrency brought to table by combining immutability, ease of transaction, fast and free settlements is what should drive the Bitcoin wave and the price volatility is the side effect of the same. In the wake of the same paradigm shift, he expects the Bitcoin prices to get stronger in the near future and believes that any stability in Bitcoin prices and value would at least be quite a few years away, as we are still in price discovery era for Bitcoin.
Are crytocurrencies safe?
There have been reports of Bitcoin trading amounting to money-laundering and that it propagates the financing of terrorist outfits. And this has put the cryptocurrency under the purview of suspicion.
"At its heart, Bitcoin is part technology and part mathematics. Hence, there is a section of individuals that may utilize Bitcoin for money laundering, extracting ransoms etc. To the same accord, Reserve Bank of India advises caution to users transacting in Bitcoin. However, with the right regulations, Bitcoin as a technology holds the power to enable greater financial inclusion, while also commissioning an optimized global transaction system," Vishwanath said.
To quell customer fear regarding Bitcoin, Unocoin organizes activities like meetups, conferences, seminars, college feasts, coupon based Bitcoin distribution, educating through blogs and articles.
But what about the lack of regulations…
A committee was set up recently to explore the type of regulations that might be required to govern the use of cryptocurrencies in India. When asked about the steps Securities and Exchange Board of India (SEBI) should adopt to police the unregulated cryptocurrency exchange platforms in the country, Vishwanath thinks the limits on transactions, needed KYC and AML docs, and disclosing of the reason for payment, should be a few areas that should be addressed first.
"The space is still evolving and we are yet to see much bigger challenges. However, some of the major factors that the industry needs to keep in mind while developing policies regarding Bitcoin e-wallet services is the FEMA, Forex and Remittance," he explained.
He further added that proper documentation of identity of Bitcoin users is another aspect that the government should be keen on, proper guidelines have to be issued to exchanges and a detailed regulatory framework needs to be drafted based on inputs from financial experts as well as existing Bitcoin companies.
Back-breaking transaction process
If you have a Bitcoin wallet, you might have observed that transferring money to wallets from individual bank accounts involves the cumbersome process of NEFT transfers, which is both time-consuming and tedious. I have always wondered why these transfers can't be more like online shopping or mobile wallets, where the user needn't key in the details of your bank account. To simplify this process, Unocoin has given an option to use net banking to purchase Bitcoin instantly 24×7, supporting all major banks that support netbanking. What's further convenient is that it has also integrated with PayU Money using which the customer can buy Bitcoin instantly as well.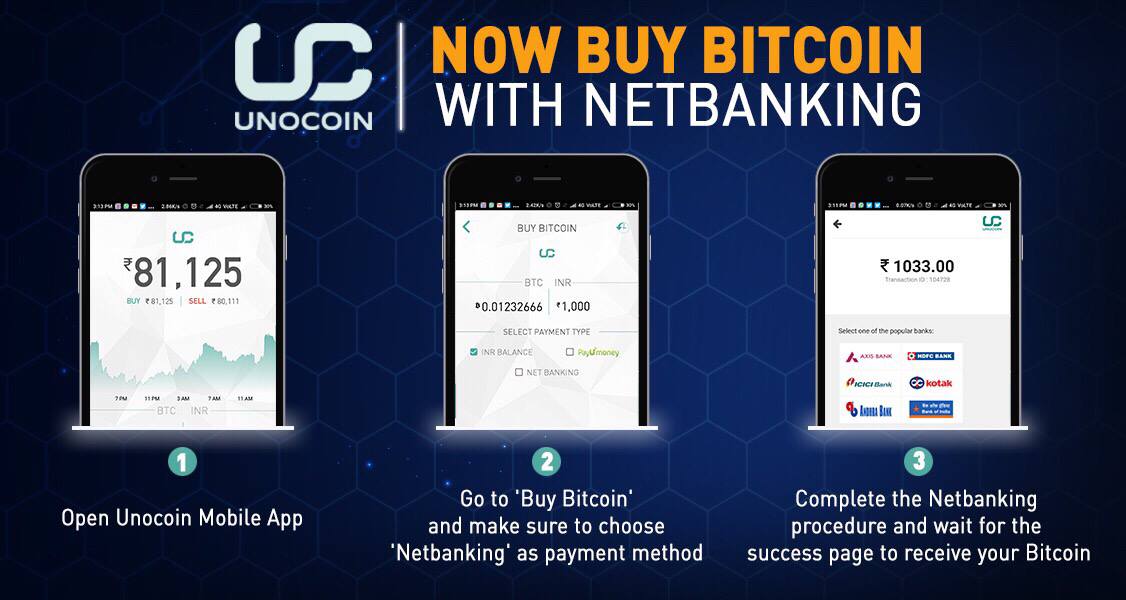 Why the price difference?
If you are among those who track the Bitcoin rates in India regularly across platforms, you might have noticed that the difference between the buying and selling price of Bitcoin on the Unocoin site is higher than of its foremost competitor, Zebpay. This means a Unocoin user will have to wait for longer before he decides to sell his Bitcoin for a profit. When asked about this, Vishwanath attributed it to the variation in the market and users across different platforms.
"There were times when we had it least among our competitors and it keeps changing. Our prices depend on our customers' buying and selling patterns instead of that of the competitor's prices," he said.
Will Bitcoin make it to the mainstream?
For Bitcoin to gain mainstream prominence, Vishwanath believes that it will have to break the monopoly and dominance of the way money has been traditionally used and circulated in the economy. Naturally, Bitcoin due to its unique proposition have remained in circulation since inception.
"Since it was a completely new and disruptive idea, users were rather guarded and unwilling to try transacting via Bitcoins. However, the times are changing and the current wave of digitalization and e-currency seems to be in the favor of Bitcoin," he added.
Since there is an upper cap on the number of Bitcoins that may float in the economy, its value is only set to rise owing to an increase in the awareness amongst the users. Currently, there are quite few
well known businesses
in India that are accepting Bitcoin through Unocoin's payment gateway. The company holds that legalizing Bitcoin would undeniably have a positive effect on the economy since Bitcoin provides a new and upgraded foundational architecture for global currency systems. Simultaneously, it also reduces the cost and infrastructure requirements for the fragmented financial systems that can completely rely on this new, advanced and superior protocol for money.
What's the future of Bitcoin in India?
Bitcoin has laid a strong foundation for other cryptocurrencies to pivot for mainstream attention. Along with the increase in Bitcoin value and transaction, Ethereum blockchain, which flaunts the backing of corporate organizations like Intel, JPMorgan and Microsoft, has also gained momentum. Besides the news of Bitcoin on verge of splitting, Bitcoin also has doubled up the capacity of transactions that can happen. But will this encourage businesses to accept Bitcoin as a payment option?
"The aspired number of transactions that we need Bitcoin to support is manifold than what we can fit into the blocks on the blockchain. This means that we need competing transactions to be able to get confirmed but the non-competing ones could take very long to confirm or may never confirm at all. The way we create competing transaction is by paying higher voluntary transaction fee for it," Vishwanath explained.
Higher fee is detrimental to the fundamentals of Bitcoin protocol and not liked by many and the only way is to fit in more transactions in the blockchain. This is possible initially by technologies called SegWit and lightning network but eventually we will need to increase blocksize to fit in more and more transactions and this could again reduce the transaction fee. Also, mainstream cryptocurrency transaction would also mean more growing user concerns and complaints. Given the absence of any established framework of customer grievances redressal so far, this can become a herculean task. Vishwanath believes that a formal recognition and regulations are warranted for the growth and longevity of the ecosystem. In the same effect, he appreciates the steps taken the Indian Government in understanding Bitcoins rather than banning the technology. Digital Assets and Blockchain Foundation of India (DABFI) was formed by the leading Bitcoin exchanges in India. He hopes that India would further learn from the well thought and well implemented regulatory implementations from other major economies such as Japan, China and USA.