Zoho scales up its service portfolio with new ticketing software, Zoho Desk
SaaS application provider
Zoho today announced the launch of Zoho Desk, a context-aware
help desk software
. The solution is remotely developed by 150 employees in Zoho's first development center recently established in Tenkasi, Tamil Nadu, India, which is where the launch took place. According to the company, Zoho Desk uses customer data from past interactions and from other Zoho products, like Zoho
CRM
and Zoho
Projects
, to organize tickets and present information to agents so that they can better understand a customer's problem and resolve it efficiently.
"Zoho has challenged conventional wisdom so many times in its history. We built the first software products from India when IT services were the rage and established them in the global market. We are now showcasing something that has never been done before: the first software product created in rural India, world-class in its refinement, competing with the best," said Sridhar Vembu, CEO, Zoho Corp.
"What started out five years ago as a small team of three engineers has blossomed into a team of over 150 people, located in beautiful rural surroundings near Tenkasi. In an industry where companies have come to believe that the only location that matters in the cloud is few square miles of downtown San Francisco, we are proving that a determined and sincere group of people can build path-breaking products anywhere," Vembu added.
Speaking about choosing a rural area for the development of a commercial IT product, Vembu said:
"We believe rural talent should not have to leave home to find opportunity. Our broken urbanisation model creates severely overcrowded and polluted megacities and denudes rural areas of talent. That is why what Zoho Tenkasi is doing matters."
Highlights of Zoho Desk
Context-aware Responses
Work Modes—
Work Modes prioritize customer interactions in real-time on the basis of response due-time, priority, and customer type. This helps agents identify the tickets that need their attention right away.
Unified Response Editor—
Inside a ticket, Zoho Desk provides contextual intelligence like customer information from Zoho CRM, past conversations with the customer, and suggestions on possible solutions for the issue at hand, helping agents respond to customers effectively.
Context-Aware Decisions
Headquarters—
With this feature, customer service managers can monitor broad trends like volumes of interactions and customer happiness ratings, as well as finer details such as long interaction threads and recent negative feedback, all from a single screen.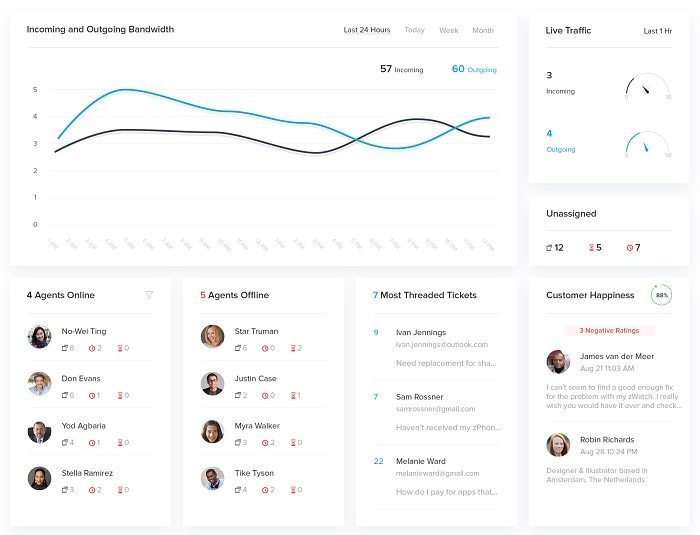 Agent Scorecard—
Agent Scorecard is a dashboard that shows each agent their own average response and resolution time, number of open and closed tickets, and happiness ratings earned. It helps create a culture of self-management in customer service teams by allowing agents to monitor their own performance.
Context-Aware Collaboration
Team Feed—
Users can mention their colleagues from other departments in a social-network-style feed within tickets to provide them the complete context of the issue raised and collaborate with them to resolve it quickly. They can also follow specific tickets or customers to get real-time updates on both the web and their mobile phones. "When companies started providing online customer support, they did so through email. As a result, even today, most help desk products look like personal email inboxes. Customers have evolved from just needing their problems resolved to expecting more transparency and quicker responses, but software hasn't kept up," said Vembu at the launch.
"Every interaction with a customer is an opportunity for the company to grow. With Zoho Desk, we aim to provide companies with the context, understanding and tools to focus on customer happiness in every opportunity."
Zoho Desk claims to help companies deliver the right solution at the right time. It further brings a simplified user interface that packs innovations like Work Modes that help agents send context-aware responses, the Headquarters dashboard that provides the visibility managers need to make better decisions, and the Team Feed to help the entire company participate in customer service.
Pricing and Availability
Zoho Desk is available immediately and is free up to 10 users. Paid plans begin at ₹720 (approx $10.5) per user per month for the Professional Edition and increase to ₹1,500 (approx $22) per user per month for the Enterprise Edition. Zoho Desk is the sixth product that the company has launched in 2016.