10 AI companies to watch out for in 2017
Infer
Infer
identifies and target business prospects using Predictive Scoring, Sales Intelligence, and Account-Based Marketing products. The company states that it picks up data from an enterprise's existing CRM or Marketing Automation system, and identifies social presence, website technology etc. It uses machine learning algorithms to retrieve patterns in the data to predict the best prospects and integrates predictive intelligence directly into the user's systems, to combine advanced customer intelligence with existing reports and workflows.
MindMeld
An advanced AI platform,
MindMeld
claims to be capable of powering intelligent conversational experiences for applications, devices and websites. Enterprises are using the platform to create conversational assistants that understand what users say and find the information they need. As a conversational AI company, MindMeld states to be one of the fastest when it comes to upgrating text interfaces to natural voice interfaces.
iCarbonX
A Chinese BioTech startup
iCarbonX
aims at building an ecosystem of digital life based on a combination of individual's biological, behavioral and psychological data, the Internet and artificial intelligence. It is working towards providing individualized health analytics and prediction by using machine analysis technologies and integrating artificial intelligence into big data analysis. According to media reports the company raised $154 million and is valued at $1 billion.
Anki
The
company
is aiming at making AI available to everyone by bringing consumer robotics into play. One of its AI robots, 'Cozmo', is known for its emotional responses. The company claims to harness robotics and artificial intelligence (AI) to bring to life consumer products which can understand responses and have a level of intellect for higher interactive capabilities.
CloudMinds
Stating to be the first cloud-robotics company,
CloudMinds
is developing an end-to-end ecosystem to support cloud connected smart machines. The company uses a cloud-enabled intelligence engine and a network of mobile sensors for not only developing intelligent robotics but also AI, Internet technology and cloud computing solutions.
Arria
Arria
is a real-time data storytelling company which has the Arria NLG Platform at its core, which is a form of artificial intelligence software that specializes in extracting information from complex data sources and communicating that information in natural language. The company offers its technology as pre-packaged SaaS Product and as a Software Development Kit (SDK) via the NLG Cloud that has APIs that allow developers to add NLG functionality to their own applications.
Mintigo
Claiming to build the ultimate 'GPS for Marketers',
Mintigo
mines financials, staff, hiring trends, technologies installed, marketing channels used, and purchase intent data from companies and creates a customer DNA fingerprint to zoom in on prospects. Its team of data scientists and machine learning tools help marketers to get insights to their customers. Its Predictive Marketing Platform for enterprise helps insight-driven customer engagement to win and retain customers.
Skytree

Skytree
claims to simplify the data prep process for data scientists and uses the entire dataset, including structured and unstructured data, to run more experiments and identify high-value patterns. It uses artificial intelligence to produce algorithms, model training and automated experimentation and integrates an enterprise's big data infrastructure with auto-documentation, model management, visual interpretation, and user and data security. It has deep analytic insights and the ability to predict future events, make recommendations, and reveal untapped markets and customers.
AIBrain
AIBrain
focus is to build AI solutions to support both personal and social intelligence via smartphones and robotics. It helps companies build AI solutions and develop artificial intelligence infused with the human skill set of problem solving, learning and memory. The company has products such as AI agent games, personal robots and conversational AI assistants.
X.ai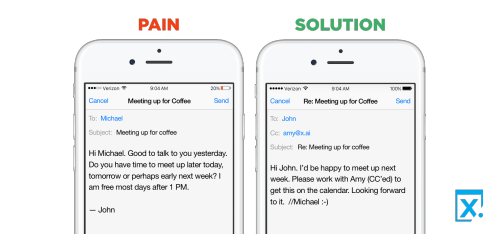 The
company
makes an artificial intelligence personal assistant who schedules meetings for its users. Through machine learning and natural language processing, Amy schedules the best time and location for the user's meeting based on the preferences and schedule.