AppsFlyer launches DeviceRank to keep mobile fraudsters at bay
global player
in mobile attribution and marketing analytics, has launched an anti-fraud
technology
, called DeviceRank, that provides protection for mobile app advertisers by automatically "cleaning fraudulent devices" from marketing campaigns aimed at driving app installs and post-install activities. The company claims that DeviceRank works similarly to a Credit Score, a mathematical algorithm designed to predict risk, identifying questionable behavior and offering enhanced protection. The new technology leverages a proprietary big data-powered algorithm to build an anonymized, multi-dimensional rating of every mobile device. Each device, AppsFlyer explains, is rated on a scale from C (fraudulent), through B, A, AA and AAA. Devices with a "C" rating are automatically excluded from AppsFlyer's attributed installs and analytics," explains. "Fraudsters and scammers are growing increasingly sophisticated, tricking advertisers into paying for both installs and in-app engagement. DeviceRank takes a radically different approach, cutting off fraud at the source and adding transparency to our industry in order to protect advertisers, our partners and the entire market," said Oren Kaniel, Co-founder and CEO, AppsFlyer.
"AppsFlyer is in a unique position to apply this game-changing technology and leverage our scale across the mobile industry, arming marketers worldwide with the best solution to combat fraud. We are excited to add DeviceRank to the AppsFlyer Active Fraud Suite, as we remain committed to fighting fraud and helping cleanse the app ecosystem of this problem."
The company is of the opinion that DeviceRank architecture and machine learning would allow its database and algorithms to grow, learn and adapt as new mobile devices come online, new interactions are catalogued and user engagement patterns evolve.
Mobile fraudsters increasing by leaps and bounds
The analytics company also released
new data
forecasting whose findings are based on DeviceRank's reports. According to research, app marketers will lose $100 million in 2016 due to verified mobile app install and engagement advertising fraud. While the study found the U.S. to be the most targeted region by fraudsters, the countries with the highest rates of app install and engagement ad fraud, when factoring for mobile population, are: Germany, Australia, China, Canada and the U.K., followed by the U.S., Russia and France. The research shows that fraudsters attempt to target specific countries depending on the potential payout they can get from falsifying their location to commit fraud. Countries with the highest cost-per-install and cost-per-action payouts have a higher fraud rate, while regions with relatively low payouts – including Indonesia, India, Brazil, Vietnam and Thailand have a lower fraud rate.
Further, it revealed that roughly 50% more fraud is perpetrated on Android, iOS which are seldom immune. These are often targeted heavily since, if successful, payouts tend to be far higher on iOS than Android for those perpetuating app install and engagement fraud.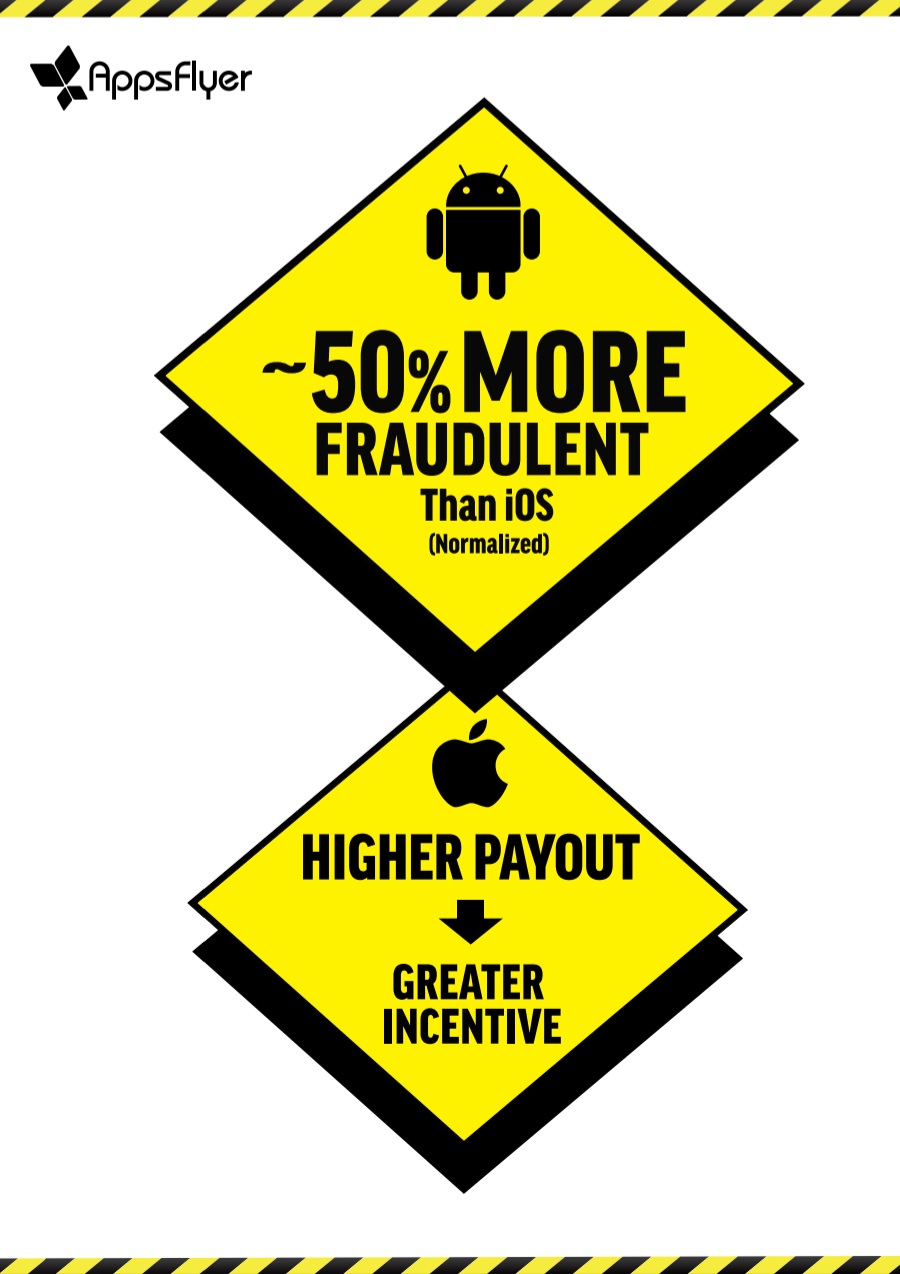 The research also indicates that most install fraud solutions rely on IP filtering and data modeling at the user or app-level. To secure such installs, AppsFlyer claims that DeviceRank can identify and address fraudulent app installs and engagement at the device level.