Going cashless? Use these 14 UPI apps on Android
What is UPI?
According to NPCI, UPI is a system that aggregates multiple bank accounts of participating banks in a single mobile application. The app enables users to transfer funds, pay directly from bank to different merchants, schedule push and pull payments and many other banking services both online and offline. It also caters to the "Peer to Peer" collect request, which can be scheduled and paid as per requirement and convenience. It saves the user the hassle of typing in credit card details, mobile wallet passwords, IFSC code, or net banking passwords as it is done through IMPS (immediate payment service) which is an instant real-time inter-bank electronic funds transfer system for mobiles in India. UPI can also be used for online shopping, utility bills, barcode payments, donations, school fees as well as over the counter payments. A couple of components come into play while using the UPI applications such as the Payment Service Provider (PSP), the number of local languages it supports, whether other banks can be accessed through the app (multiple VPA – Virtual Payment Address), does it have features that allows payment through barcode/ QR code scanning, utility bill payment availability and if the app can handle UPI linking. With most of the apps having similar features, it all boils down to the user interface and experience. Here are 14 UPI apps and their Google Play rating:
Axis Pay
The UPI app by Axis Bank allows both customers and non-customers to send or ask for money using the app. it allows users to transfer money to a VPA or account directly and needs the user to only use the VPA. The application allows scanning of QR codes for transactions. With about 11,300 downloads on Google Play store, the
Axis Pay
has a 3.9 rating.
BHIM App
Bharat Interface for Money (
BHIM
) has been developed by the National Payment Corporation of India. The application claims to support over 30 banks and also allows the user to send money to non-UPI supported banks through IFSC (Indian Financial System code) and MMID (Mobile Money Identifier). With a maximum limit of INR 20,000 for 24 hours, the BHIM app is one the few that supports multiple Indic languages. The app also allows scan and pay through QR code. With over 188,400 downloads, BHIM stands at a 4.o rating in the Google Play store.
Cent UPI
Central Bank of India's UPI app lets the customer use Virtual Address, Aadhaar Number, Account Number and IFSC, Mobile Number and MMID for payments.
Cent UPI
allows users to pay and collect money requests to their beneficiaries as well as add multiple bank accounts to a single interface. For payments, the app claims to use 1-click 2-factor authentication, Biometric Authentication and also the payer's smartphone for secure credential capture. With only 472 downloads, the app stands at 4.0 rating in Google Play store.
Chillr
A multi-bank payment service which claims to work with 34 Banks which are both IMPS and UPI enabled. The customers of these banks can use the app to transfer funds, send and receive money, request payments and make simple bill payments. According to the company, the transactions made on
Chillr
are secured and protected by an MPIN and banking data is secured by an end-to-end HTTPS encryption. Since this is not a core banking app like a Cent UPI, there are certain charges levied on IMPS transactions — set by the bank themselves– for bank to bank transfers. Interestingly, Chillr is an HDFC mobile wallet for customers to use for multiple banking. Chillr has about 38,540 downloads and rates 4.4 on Google Play store.
eMpower
The Canara Bank UPI claims to offer mobile banking on-the-fly and multilingual support for banking. Like other UPI apps,
eMpower
also allows the customer to have multiple bank accounts linked to a single Virtual Address. The application also allows users to switch between Virtual Addresses and MPINs for specific banks and helps merchants as well as customers to generate QR codes for transferring and receiving payments at Retail Stores. With 3,125 downloads eMpower has a 3.9 rating on the Google Play store.
FTCash
According to several media reports
FTCash
was looking to raise $10 million for getting into the UPI game in September last year. The application facilitates payments via Whatsapp, mobile wallets, PayPal and UPI. The app claimed to have more than 5000 users that entailed mom-n-pop stores, kirana stores and small vendors who would need only a feature phone and a bank account to handle transactions. The app's mainstay was to help customers make credit and debit card transactions for daily utilities. On Google Play store however, the app only has about 290 downloads with a 3.9 rating.
HDFC PayZapp
HDFC Bank boasts of having a regular mobile-banking application,
PayZap
, which was later re-conditioned to have the UPI feature installed. This means that the user could use both the UPI and non-UPI features within a single application. Before HDFC integrated UPI into its mobile banking application, it facilitated UPI through Chillr and PayZap. The application has all the standard features of a UPI application and has added another layer of security apart from the VPA, the MPIN. With over 150,000 downloads, the app scores 4.2 on the Google Play store.
iMobile & Pockets
The application is ICICI Bank's official mobile banking platform. Apart from claiming to provide more than 100 banking services on the platform, the
iMobile
also has a companion application called iWear. By downloading this companion app, users can view the information about their bank and credit card accounts as well as balance details and last 3 transactions on a smartwatch. The other app by ICICI is Pockets which integrates a comprehensive wallet, third party payments to offline stores using mVisa and peer-to-peer payments through smartphones, using Near Field Communication technology. The digital wallet allows users to instantly send money to a wide array of contact points including social profiles apart from bill payment. Interestingly, the app allows the user to add a Pockets savings account to the wallet, which will allow them to earn interest on their idle money. Both the apps are UPI based, iMobile is rated 4.4 with more than 408,600 downloads and Pockets has a 4.2 rating with 108,681 downloads on Google play.
Jugnoo Pay
The popular auto-rikshaw hailing application had diversified into an app that provides food and groceries online for a few cities in India. It was only last December that the mobile app player launched its Jugnoo Pay feature powered by Yes Bank. According to
Jugnoo
, fund transfers will happen directly from the users bank accounts by just typing UPI payment address and the process will be nearly as 'frictionless as it is with digital wallets'. With more than 58,000 downloads the app scores 4.2 on the Google Play store.
KayPay
Back in 2014, Kotak had launched its
KayPay
app as the first bank agnostic payment product for Facebook users to send money to each other. All users needed to do was to feed in their Facebook user id and password and a One Time Password (OTP). Now with UPI, the application offers P2P (Person to Person) and P2M (Person to Merchants) payments, along with other standard UPI features such as sending and receiving money by Virtual Payment Address for UPI consumers and IFSC transfers for non-UPI. Kaypay has only 586 downloads with a 3.1 rating on Google Play store.
MobiKwik
Launched as a mobile wallet to compete with players such as Paytm and Oxigen wallet, Mobikwik was quick to join the UPI brand wagon partnering with ICICI Bank.
MobiKwik
users can use the app to put cash in their wallet with e-cash using UPI. The company claims that using UPI consumers have access to over 100,000 merchants — both online and offline — across the country to use their eCash. As a mobile wallet that is UPI enabled, the app helps in DTH recharge, bus ticket bookings, IRCTC bookings, phone bills, electricity, gas bill payments, insurance payments and broadband, landline, datacard bill payments. With 577,496 total downloads, Mobikwik has a 4.2 rating on Google Play store.
PhonePe
Flipkart owned digital payment application
PhonePe
claims that its USP is that it does not charge for transferring money from the wallet to the bank account, unlike other digital wallets in the market. While e-wallets charge about 1-4% from non-KYC users to transfer money to their bank account, PhonePe charges a standard processing fee of 50 paise from the banks. The app was working towards adding a feature that lets the user send money to a mobile phone number directly using UPI. The app allows transactions from multiple banks and also has a multilingual interface for localization. Google Play Store rating stands at 4.3 with 106,074 downloads.
SBI Pay and SBI Buddy
State Bank of India integrated the UPI feature as a part of its existing mobile app like HDFC Bank and ICICI Bank. While the SBI
Buddy
(its mobile banking app) is available in 13 Languages and has the ability to send money to registered and new users, ask money and set reminders to settle dues as well as make utility bill payments, the SBI Pay app is based purely on the UPI platform for payments through VPAs. The SBI Pay app also allows merchant onboarding, QR code scan and pay, and promocodes. On the Google Play store the SBI Buddy app is rated 3.9 with 62,683 downloads and the SBI Pay app has a 2.9 rating with downloads slightly above 10,000.
Trupay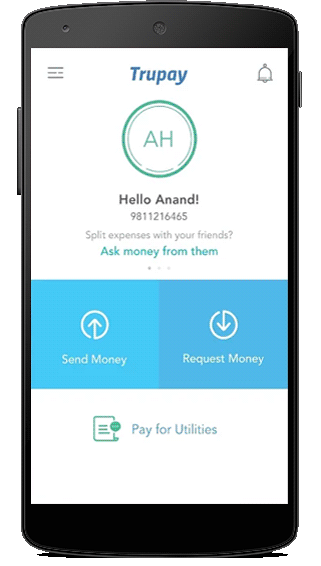 Developed purely as an app that is for UPI transactions,
Trupay
has tie-ups with multiple banks (31 till date), with SBI and HDFC being the latest additions. The application has a feature called the 'Contri', which allows the user to split a bill. Customers can use Contri to track payments and receive money directly into their bank account. The company also offers payment solutions for websites, mobile apps and offline businesses. The app has 2,271 downloads and a 3.9 rating on Google Play store.