Dell EMC launches ProDeploy Client Suite, to speed up PC deployment
Technology
giant, Dell EMC has announced the launch ProDeploy Client Suite, that will help its clients deploy/ configure/ set-up PCs with greater speed, less effort and increased control. The ProDeploy Client Suite has three different service levels, training and certification, that will facilitate customers to choose the specific service that meets their needs. The company claims that with ProDeploy Client Suite, customers can trust Dell EMC and partner experts to lead all aspects of their deployment from planning, configuration and installation to data migration and knowledge transfer. According to Doug Schmitt, President, Dell EMC Services, this service is committed to deliver choice, flexibility and scale.
"ProDeploy Client Suite furthers our tradition of continuous innovation by providing customers with new solutions that help them get the most value from their Dell technology. The suite's powerful combination of expertise, automation and control empowers IT resources and give end-users the ability to use their systems straight out of the box," he added.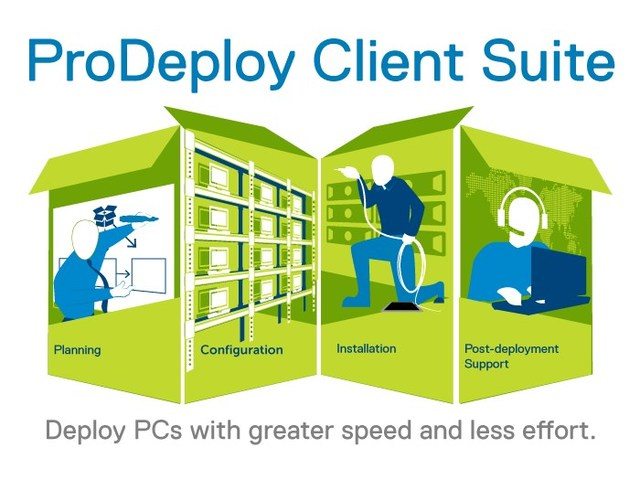 Features
Basic Deployment: Systems are prepared for deployment and arrive with the image loaded, BIOS configured and asset tag applied.
ProDeploy: Additionally, a deployment engineer develops an implementation plan covering all aspects of installation and configuration of hardware and system software, 24/7 onsite installation and post-deployment knowledge transfer.
ProDeploy Plus: According to the company this end-to-end service addresses every task required to get new PCs from the factory to desk, up and running fast. The customers can use Dell Connected Configuration to set up a factory distribution point for their Microsoft System Center Configuration Manager to securely configure BIOS, image and domain join, which lowers onsite effort. They also receive data migration with secure data wipe of legacy systems, training credits to use at any time, 30-day post-deployment support, and a dedicated ProSupport Technical Account Manager. ProDeploy Plus claims to help reduce the amount of time it takes to deploy PCs by 35% and save up to $620 per PC deployed.
"Our differentiated services are a big reason customers buy from Dell. ProDeploy Client Suite provides IT managers the flexibility to outsource time-consuming deployment tasks that divert IT staff from more critical initiatives," said Jeff Clarke, Vice chairman, Operations, Dell and President, Client Solutions Group.
"They can now focus on delivering a great end-user experience and increase productivity by putting a fully- configured system in their employees' hands," he added.
Dell EMC states that it also assigns an engagement manager who handles every aspect of the deployment, monitoring activity, coordinating resources and providing assistance with any issues or questions, to the customers. The Deployment projects are set up and managed through TechDirect, a self-service portal that allows customers and partners to easily and confidently direct deployment projects, from defining the scope, to making changes, configuring systems or checking status.