Google introduces next-gen G Suite tools with major updates
introduced
the
G Suite
to help its customers collaborate more on the cloud with smarter products from its Google-for-work portfolio. Yesterday, the company announced the next generation of tools for its collaboration and communication platform, which it claims is taking the suite up a notch. Google announced a Google Drive tailor-made for the enterprise, an evolved Hangouts purpose-built for teams called Hangouts Meet and Hangouts Chat, an Add-ons platform to integrate Gmail with the applications customers use every day as well as @meet, a machine learning-powered bot that uses natural language to schedule meetings.
Team Drives
Google claims that it has updated
Drive
to addresses the unique needs of its enterprise customers, like compliance, data security and file ownership when teams change.
Team Drives
will allow teams to simply and securely manage permissions, ownership, and file access for an organization. The search giant has made the tool generally available for G Suite business, education, and enterprise customers.
Drive File Stream
will allow employees to access tremendous amounts of cloud storage content directly from their desktops, without requiring a sync or monopolizing hard drive space.
Google Vault for Drive
will grant additional controls to admins to manage retention and legal hold policies. Google has also brought
AppBridge to G Suite
to help its largest customers manage some of their most complex data migrations to Drive.
Hangouts Meets and Chats
Hangouts Meet
is a new video
meeting
experience, which is designed to accommodate up to 30 people. The tool can be accessed on the web without the requirement of any download or plugins. It integrates with G Suite so the customer can present files natively. The tool will allow anyone from Android or iOS device join. It will also feature a dial-in phone number for employees who are on the road without wifi/data.
Hangouts Chat
allows teams to connect with each other using virtual rooms if they cannot meet face to face. The company states that it has deep integrations with G Suite, and can embed content right in the conversation to interact and discuss items from Docs, Sheets, Slides, Calendar and other files. Chat has also been deisgned to integrate with third party enterprise tools such as Asana, Box and Zendesk to integrate existing workflows.
Gmail add-ons
Gmail Add-ons is a new way to integrate enterprise workflows with
Gmail
. Google claims that its Add-ons are triggered by the context of the email. It will eventually allow developers to bring third-party applications into Gmail. Developers can write an integration once, and it will work in the Gmail apps on Android, iOS and the web right away.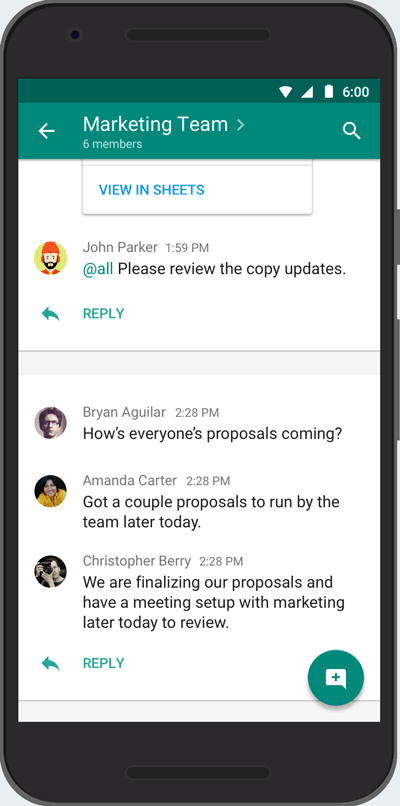 Buddying with Salesforce
Google had announced that it is going to build tighter integrations with Salesforce and G Suite apps. Now the company has announced that businesses can use Edit Opportunities in Google Sheets to save time. Sales reps can simply sync a Salesforce Opportunity List View to Sheets to bulk edit data, and the changes are synced automatically to Salesforce without any uploads. This integration will support business logic and validation rules and even let sales reps use Explore in Sheets to help answer natural language questions.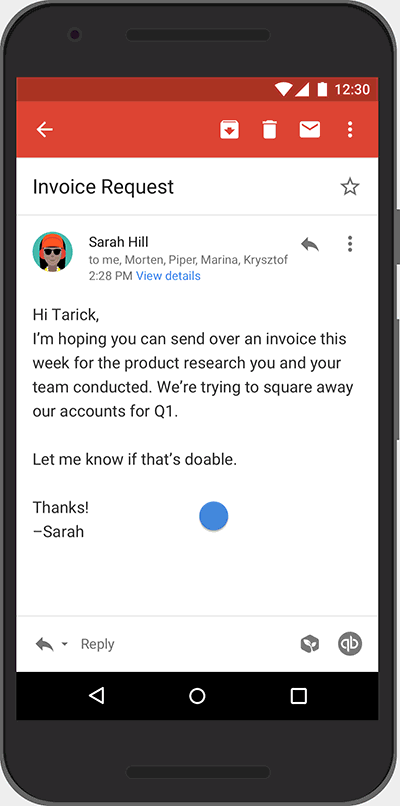 @meet
Google also has been adding machine intelligence innovations throughout its G Suite products. For example, Explore in Sheets that lets the user skip complex formulas and ask questions in a natural language, Calendar Find a Time lets the user avoid scheduling conflicts and suggests alternatives, and Quick Access in Drive which uses context to automatically surface the most relevant files. Taking machine intelligence forward the company has introduced @meet, an intelligent bot that automates the scheduling of meetings, as a part of Hangout Chat. This bot will calculate all the variables and options for scheduling, which otherwise is a tedious task for users.