Infer integrates AI into Dynamics 365, aims to make workflows smarter
platform
that helps companies win more customers, expanded its open ecosystem today with a new connector for
Microsoft Dynamics 365
. With this integration, Infer aims to support all of the major customer relationship management (CRM) and marketing automation (MA) platforms, and claims to offer more connectors than any vendor in its industry. "Infer's connector for Microsoft Dynamics brings proven predictive sales and marketing insights directly into our customers' CRM systems," said Jujhar Singh, corporate vice president, Microsoft Dynamics CRM.
"Infer's open philosophy and strategy to go anywhere the user is aligns perfectly with our approach at Microsoft. By integrating Infer into the Dynamics 365 workflows companies already have in place, we'll make them smarter and stickier — helping deliver real business value."
How does it work?
Infer mines comprehensive customer information and buys signals from CRM, MA and web analytics systems, and returns predictions and insights through connectors for Dynamics 365. It also pushes out data signals, predictions, profile segments and other useful insights to sales management and engagement applications – including
AdRoll
,
LeanData
and
Velocify
– in order to orchestrate a variety of go-to-market workflows across automation platforms. Finally, Infer delivers its predictive intelligence to analytics systems like Microsoft Power BI, InsightSquared and Tableau to drive transparency through next-generation sales and marketing management reporting. Infer's predictive platform can also seamlessly connect with any other system via open REST application programming interfaces (APIs).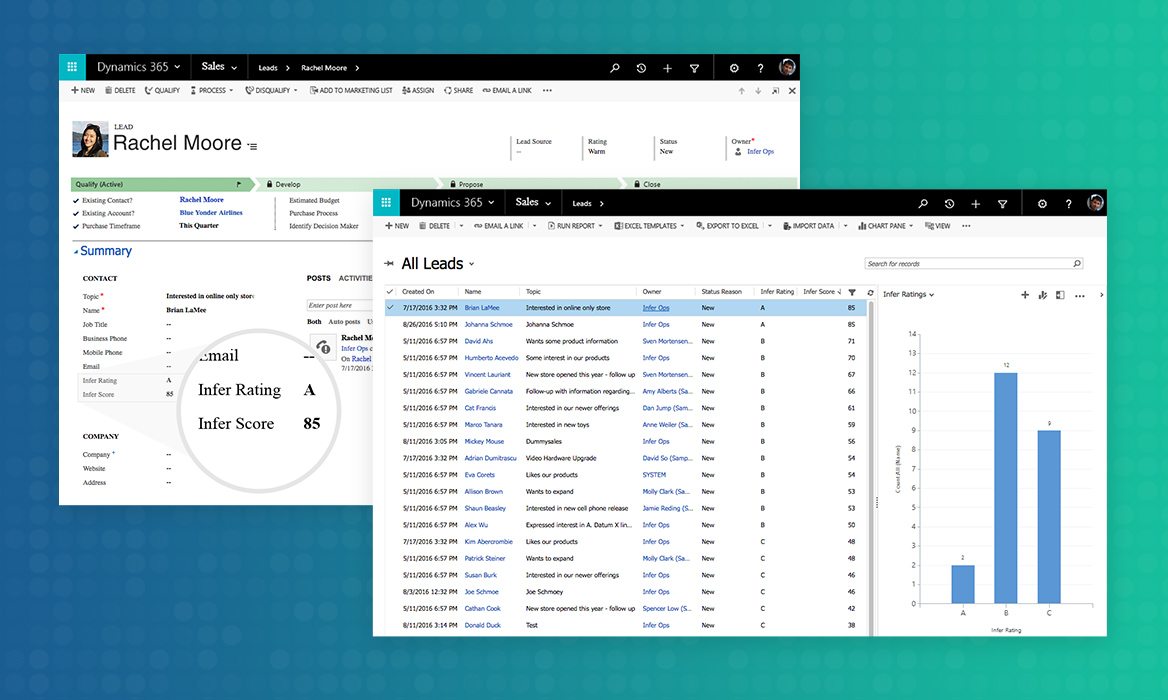 Key capabilities include:
Predictive Scoring – Personalized models look at historical CRM data and Infer's vast library of external signals to identify which prospects are the best fit for a company's product. Predictive scores are then added onto customer records in Dynamics 365 for Sales to help increase sales productivity through better prioritization, streamlined workflows and more informed decision-making.
Sales Intelligence – Infer's recently launched sales analytics package for Microsoft Power BI delivers powerful visualizations and key insights that dramatically boost sales and marketing performance. With this valuable intelligence, Microsoft customers can produce accurate sales forecasts and analyze their pipeline to find hidden gold.
"This integration between Dynamics 365 and Infer brings best-in-class sales and marketing predictions right into the native CRM fields and workflows that enterprises use every day," said Vik Singh, CEO and co-founder of Infer.
"Adding Microsoft Power BI to that mix delivers the industry's very best reporting and visualizations for go-to-market teams, so they can proactively identify near-term opportunities to drive more revenue. Our deep integration reflects both the power of Microsoft's developer platform, as well as the wonderful support the company has provided to our team."
Hence, by bringing predictive analytics and artificial intelligence (AI) into any application a company uses, Infer aims to help businesses fuel more intelligent, successful customer growth strategies. Infer's Dynamics 365 for Sales connector is available beginning November 1.