How to build a global company from a small town: The Zoho story
enterprise software suite
, and he would have a definite, "Yes," for an answer. Nestled amidst plush fields and gigantic hills, is Tenkasi, a small pilgrim town in the South Indian state of Tamil Nadu in India. The nearest airport is in Trivandrum, 109 km (about 68 miles) away. The town came into focus last November, when Zoho
launched
Zoho Desk, a software for organizing tickets and presenting information to agents to better understand a customer's problem and resolve it. It's in Tenkasi that Zoho seats its team of 150 employees. For the records, Zoho headquarters in Chennai.
Companies are drying talent from all the cities. Essentially all the population growth in major cities is due to migration, not due to local population growth. This means we are actually sucking talent from all the smaller towns and villages. According to Sridhar, the only way to achieve a sustainable lifestyle is by creating jobs in places other than cities. But you do need infrastructure and have to find a balance of may be a town with "a population of 100,000 people." Having said that, the Founder was clear about one thing. The town needed to have a nicer climate, greenery and open space. The hunt led him to Tenkasi — a town surrounded by the Western Ghats, with one of the most beautiful scenery. And there emerged its new establishment, which was originally a fruit pulp factory.
Difficult times call for new avenues
But that wasn't the story, say a decade or before ago. Launched in 1996 — at that time as
AdventNet
— Zoho went through troubled times between 2001 and 2004. In 2003, the dot-com bubble burst and toppled the company's core markets, which included of telecommunication vendors, and companies like Nokia, Motorola and Cisco, etc. At that time, the company provided network management solutions. It became necessary for the company to seek alternative markets and widen its product segment, and decidedly shift focus on to the SMB market. By 2005, it was ready with its first Office suite product Zoho Writer; and Zoho CRM. Zoho Sheet, Zoho Creator, Zoho Show and Zoho Projects followed in 2006. Thereafter, every year, Zoho kept widening its portfolio of products. Today, the company has offices in Pleasanton, Austin, London, Tokyo and Beijing, besides of course Tenkasi and Chennai.
The advent to cloud
Let's not forget that Zoho
Writer
was a cloud-based business app. "One of the reasons we got started with that is the sheer convenient fact that we had perceived. The fact that we didn't have to install the software, we could go online and use it, access it from any machine, not having to backup anything. These are the advantages of the cloud," said Sridhar. It was launched at a time when internet penetration was low, and speed came at a premium.
"In any technology, you'll see that initially there will be disadvantages. But when a technology is convenient, there are lots of incentives to work on the limitations, and improve the security and privacy. In fact, people adopted because of the convenience. The human behavior is to do what is convenient and easy," he says.
It's only in the last 4-5 years, that venture capitalists have started supporting the SaaS industry in India. On the demand side too, finally the cloud is taking off in India now. Initially, it started with the tech companies themselves, but now we see that even mainstream businesses that have nothing to do with technology are finding themselves online.
"So there's a market out there. The trend is real. The issue is of course a lot of segments have too many companies, so you are going to see a lot of consolidation. Too many companies and too much money is chasing them for venture capital," Sridhar explains.
Sustaining on bootstrap-finance
So what stops the 18-year-old company from raising money? At the most fundamental level, Sridhar believes that bootstrap-finance, which essentially means building a company from personal finances, gives him the freedom to pursue his own business plans. For example, Zoho's center in Tenkasi, is a long-lived decision. The company has been here for about six years now, but it's only last November that it was opened to the world. That kind of long gestation period cannot be achieved when one is raising money from outside investors because they are focused on financial returns. The longer it takes to produce the return, the lower the return is.
"A return-focused investor cannot be a long-term investor. Venture capitalists will have a long-range cycle, but they necessarily seek an exit before liquidating further investment. That introduces all kinds of pressures. So to avoid such issues, and focus on the long run rather than short-term return, Zoho has adopted this practice since the very beginning," he says.
Focus on better products
Zoho is currently investing and looking forward to hire around 500-600 employees in the next 12 months. The company is both adding to the overall suite, integrating it all together and shaping up its operating system — Zoho Desk, launched last year.
It also rolled out its latest version of Zoho CRM in August 2016, making it, what Sridhar claims as, "the industry's first multichannel CRM." It was launched to help manage the contacts and sales processes of small businesses, enterprise-scale organizations, and everyone in between. But Sridhar feels that companies are still lacking the potential to create a successful CRM software. "In any enterprise software, be it CRM, the first problem is that a lot of companies jump into software without thinking through the internal processes about how they should work. Very often, when you adopt software, you need to rethink how we should plan certain activities, like handling our leads, support tickets, methodologies and processes. Many a times, companies bring their paper-based or pre-software processes to the software rather than taking advantage of the better ways to work that's possible today," he explains. He stresses on the need to take advantage of better communication tools like chats, messaging, etc to collaborate better. This also gets impacted by an organization's style of workflow that may still rely on old-fashioned meetings. They might think that no work is getting done if they don't have a meeting. But in reality, better communication tools can get the work done without having a meeting.
Consumerization leads to revolutionization
"The iPhone and Android phones have completely revolutionized the access to technology available to everyone. Everything we do today is now dependent on these two things," Sridhar says.
He feels that consumerization of IT has also led to massive revolutionization. Google to Facebook to Amazon, all these are consumer technologies. But they are finding their way into how business is conducted. According to him, even areas like CRM or accounting are taking on a more consumer software flavor. Their design inspiration is coming largely from the consumers. Therefore, consumerization lowers the cost of training and adoption and makes it more widespread.
Zoho to focus on India as a market
At a time when Asian markets have become a key focus for many global players, Zoho regards India as its most important target right now. India is now at No. 2 in terms of global traffic for the company after the US.
"We think India will overtake the US traffic for our company. US is a mature market in terms of internet growth. When we look at the sheer size and growth potential, we look at GDP and India has got about 2 trillion GDP, that's about $1500 per capita. And if you look at a country like Thailand, it has about $10000-14000 per capita. So India could easily reach Thailand's level, which would make it a $20 trillion economy, which would be bigger than the US economy. And this could happen in the next 15-20 years," says Sridhar.
Are Zoho's numbers trending?
From a business perspective, Zoho tracks the daily traffic usage in terms of both the number of users and the intensity of usage. Intensity means how long they are using it and how many of its products are they using. So it is constantly tracking its user base.
"We are very happy to see that people now use more Zoho services than a few years ago. So the intensity has gone up. Of course, number of users has gone up too. This is what eventually translates into someone becoming a paying customer because they use it heavily. It means a lot to them and hence they tend to pay. If they are light users and they don't use much, they won't tend to pay," Sridhar notes.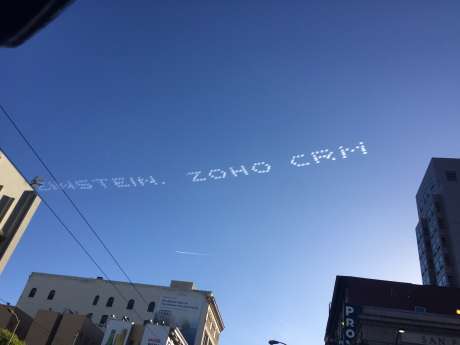 From a customer's perspective, Zoho measures how satisfied they are with its products, support experience and track the social media, and bring it all to their internal support.
"Our conversion rates are very good. Typically in a SaaS industry, if you get about 1-2%, you are doing good. We are well ahead of that with about 4-5% or more," Sridhar signs off.