HP's new 3D printer aims to disrupt the $12T manufacturing industry
Hewlett Packard, has recently unveiled the world's first production ready commercial 3D printing system. Being called the HP Jet Fusion 3D Printing Solution, the 3D printer can be used for design, prototyping and manufacturing, claiming to deliver 3D printed products ten times faster than FDM and SLS printer solutions and at half the cost of the current 3D printing solution.
Stephen Nigro, President, 3D Printing Business, HP, says:
"Our 3D printing platform is unique in its ability to address over 340 million voxels per second, versus one point at a time, giving our prototyping and manufacturing partners radically faster build speeds, functional parts and breakthrough economics. The new HP Jet Fusion 3D Printing Solution delivers a combination of speed, quality, and cost never seen in the industry. Businesses and manufacturers can completely rethink how they design and deliver solutions to their customers."
In an official blogpost by Nigro, he claimed that, with the Jet Fusion 3D Printing Solution, HP has taken a step further to disrupt the $12 trillion manufacturing industry. The result of decades of HP investments in inkjet printing, precision fluid mechanics, and materials sciences. And now its 30 years of leadership in 2D printing is entering a new dimension.
At the Voxel level
The printer can produce functional parts for the first time at the individual voxel (3D equivalent of a 2D pixel) level and offers customers the ability to transform part properties and deliver mass customization. HP has been working with manufacturers, co-development partners and strategic partners, including Nike, BMW, Johnson & Johnson, Jabil, Siemens, Materialise, Shapeways, Autodesk, and Protolabshave to reinvent prototyping and manufacturing industry with first commercial 3D printers based on open platform.
The HP Jet Fusion 3D Printing Solution has been designed for model shops and 3D print service bureaus and offers a simplified workflow to reduce cost for radical prototyping. It also allows the delivery of final parts manufacturing with open materials and software innovation platform that lowers barriers to adoption and enables new applications across industries.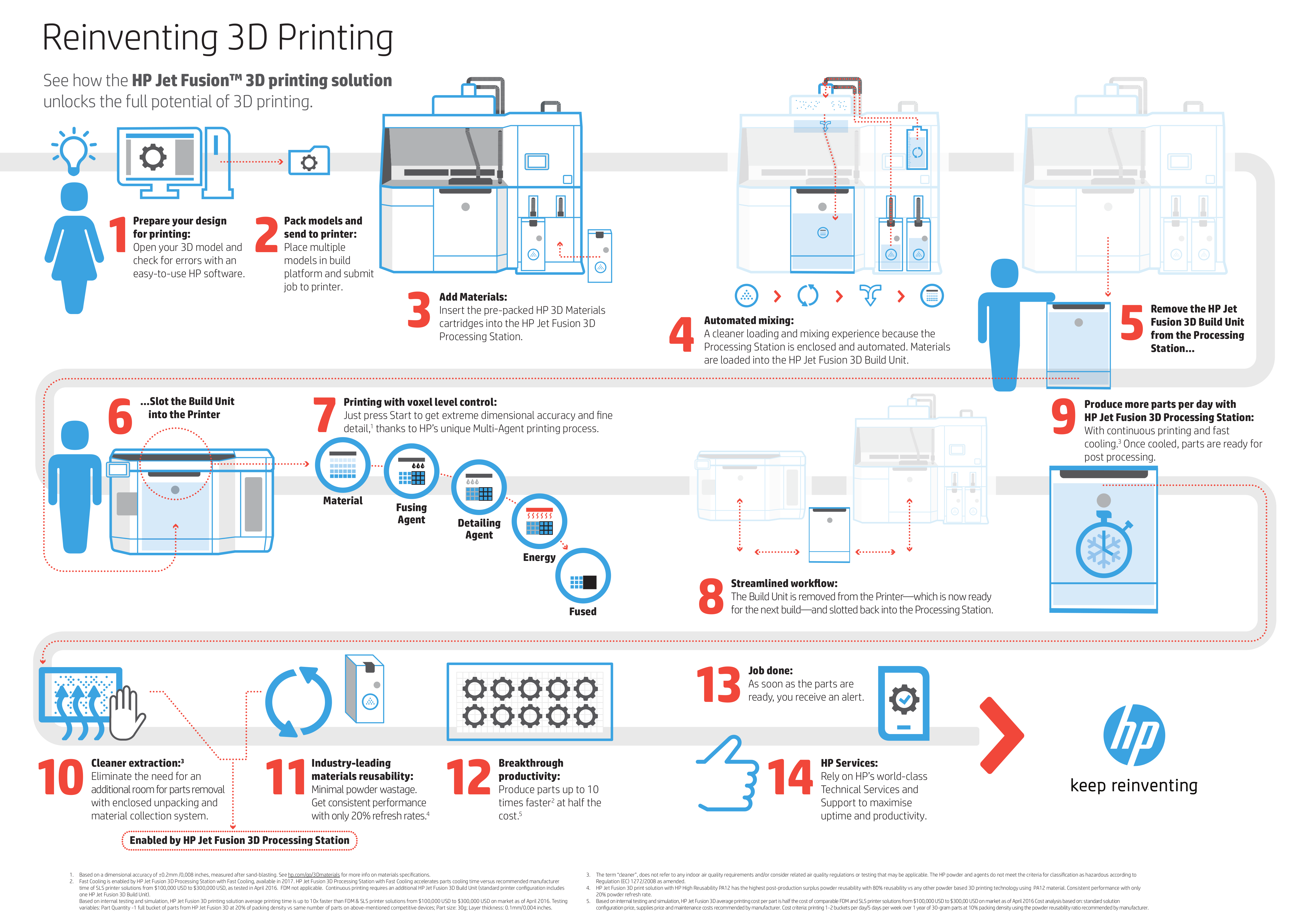 Partners
HP and certified partners are working together to enable materials innovation and new applications for the printer, leading to reduced 3D printing costs and faster industry adoption of 3D printing. HP is creating the 3D material app store and collaborating with such certified partners as Arkema, BASF, Evonik and Lehmann and Voss, with plans to expand the open platform ecosystem over time.
HP has also collaborated with software partners like Autodesk, Materialise and Siemens to make the design-to-print process easier and more intuitive. Through its integration with key manufacturing software solution providers, HP is enabling deeper integration of 3D printing into manufacturing processes.
Market disruption
HP claims that paired with innovation like Sprout by HP, complete digitization of design through production will fundamentally disrupt traditional manufacturing. Digitization and 3D printing can help revitalize regions across the globe that are balancing sustainability with industrial growth. Digitization and 3D printing will reinvent traditional supply chains and create a 'just in time' delivery model.
Thinking ahead
As HP expands its palette of materials and colors, customers will benefit from the ability to transform part properties at voxel level, giving control and allowing limitless combinations of applications, colors, and materials with unique and futuristic properties. The ability to print with embedded intelligence, like sensors in parts, is a key to the Internet of Things. The printing of parts with embedded information, like invisible traces or codes, will deliver a future of increased security and tracking for reinventing supply chains.
HP claims that in the future up to 50 per cent custom plastic parts for the HP Jet Fusion 3D Printers are expected to be printed and produced with HP Multi Jet Fusion technology versus traditional manufacturing methods.
From the shelf
HP is offering two new 3D printers, designed for rapid prototyping and production; the HP Jet Fusion 3D 3200 and 4200. 3D 3200 has been designed for prototyping, offering improved productivity and the capacity to grow usage at a lower cost per part. The later, 3D 4200, is designed for prototyping and short-run manufacturing needs, with high productivity to meet same-day demands at the lowest cost per part. Both the printers have a synchronized set of tools includes intuitive software, an innovative HP Jet Fusion 3D Processing Station with Fast Cooling, and high-quality materials.
The HP Jet Fusion 3D 4200 Printer will be delivered in late 2016, with the HP Jet Fusion 3D 3200 Printer following in 2017. Pricing for the HP Jet Fusion 3D 3200 Printer starts at $130,000. Pricing for the full end-to-end solution (HP Jet Fusion 3D 3200 Printer and Processing Station) starts at $155,000.