Microsoft announces Coco Framework to make blockchain enterprise proof
an open-source system
that reduces complexities around current blockchain protocol technology that requires complicated development techniques to meet the operational and security needs of enterprises. According to an official release, the Coco Framework when integrated with blockchain networks addresses critical needs for commercial adoption like high-transaction speed, distributed governance and confidentiality. Providing these foundational capabilities, Coco Framework opens up more complex, real-world blockchain scenarios across industries — like financial services, supply chain and logistics, healthcare and retail — further proving blockchain's potential to digitally transform business. Mark Russinovich CTO, Microsoft Azure, writes on a company blog:
"As enterprises look to apply blockchain technology to meet their business needs, they've come to realize that many existing blockchain protocols fail to meet key enterprise requirements such as performance, confidentiality, governance, and required processing power. This is because existing systems were designed to function—and to achieve consensus—in public scenarios amongst anonymous, untrusted actors with maximum transparency. Because of this, transactions are posted "in the clear" for all to see, every node in the network executes every transaction, and computationally intensive consensus algorithms must be employed. These safeguards, while necessary to ensure the integrity of public blockchain networks, require tradeoffs in terms of key enterprise requirements such as scalability and confidentiality. "Efforts to adapt existing public blockchain protocols or to create new protocols to meet these needs have generally traded one required enterprise attribute for another—such as improved confidentiality at the cost of greater complexity or lower performance."
Coco Framework combines advanced algorithms and trusted execution environments (TEEs), like Intel's Software Guard Extensions (SGX) or Windows Virtual Secure Mode (VSM).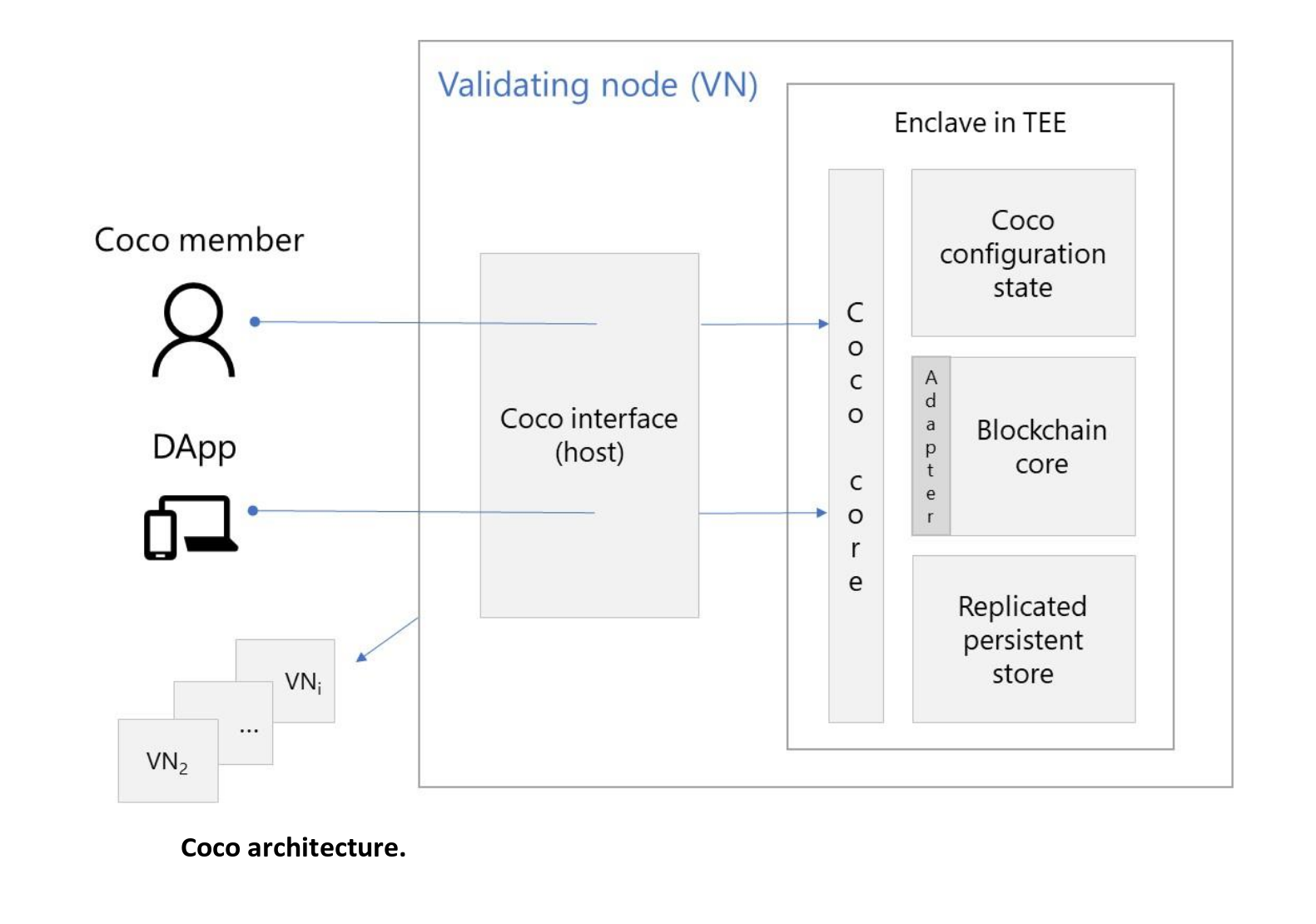 When integrated with a blockchain network, key benefits of the Coco Framework include:
Transaction speeds of more than 1,600 transactions per second
Easily managed data confidentiality without sacrificing performance
A comprehensive, industry-first distributed governance model for blockchain networks that establishes a network constitution and allows members to vote on all terms and conditions governing the consortium and the blockchain software system
"We are thrilled to work with Microsoft to bring blockchain to the enterprise," said Rick Echevarria, vice president, Software and Services Group and General Manager, Platforms Security Division at Intel. "Our mutual customers are excited by the potential of blockchain. Intel is committed to accelerating the value of blockchains powered by Azure on Intel hardware, by improving the scalability, privacy and security of the solutions based on our technologies." By design, Coco is open and compatible with any blockchain protocol. Microsoft has already begun integrating Ethereum into Coco and JP Morgan Chase, Intel and R3 have committed to integrating enterprise ledgers, Quorum, Hyperledger Sawtooth and Corda, respectively. "The R3 Corda platform was built for enterprises. We designed it with the financial industry from the ground up to solve real business problems, but we also knew it had to be deployable and manageable in today's complex IT landscape," said David E. Rutter, CEO of R3. "No other distributed ledger technology platform is as interoperable or easily integrated, and partnering with Microsoft is another milestone in our mission to facilitate a world of frictionless commerce."