42% APAC organizations face shortage of mobile developers: OutSystems report
company
, OutSystems has published its Asia Pacific (APAC) focused research report on the state of application development and the challenges associated with it. The report unveils detailed survey results from over 680 IT professionals from industries and markets across APAC. The new research report provides deep insights from IT managers, enterprise architects, and developers addressing a wide range of issues. It indicates that digital transformation is creating new IT challenges at every organizational level. Hence, the report takes a closer look at the most critical issues and how they're being addressed, as to avoid missed market opportunity and lost revenue. "Our 2017 survey reveals that many IT professionals in Asia Pacific are facing significant challenges when it comes to digital transformation and application development," said Mark Weaser, Vice President, OutSystems, Asia Pacific.
"Most organizations struggle with massive backlogs, no time to innovate, scarce resources and complex systems. And this problem only gets worse with more complexities in the business initiatives and demands for mobile and Internet of Things (IoT)," Weaser added.
Seven key findings that impact every IT professional from the CTO to front line developers:
Huge backlogs slow productivity: Almost half of IT professionals (45%) reported having a backlog of mobile apps, some with more than 10 apps waiting to be developed.
Skills gap is hampering growth: Although 93% of respondents said that mobile functionality is either a requirement or very important, 42 percent of organizations reported facing a shortage of mobile developers and 53% reported a knowledge gap in the skills needed to undertake mobile development.
Development times are excessively long: Almost three quarters (69%) of IT professionals said it takes more than three months, on average, to develop a mobile app. For 8% of respondents, the time required stretches out to over a year. This is leading to considerable dissatisfaction, with nearly half (43%) of respondents saying that they're not happy with the current velocity of their application development team.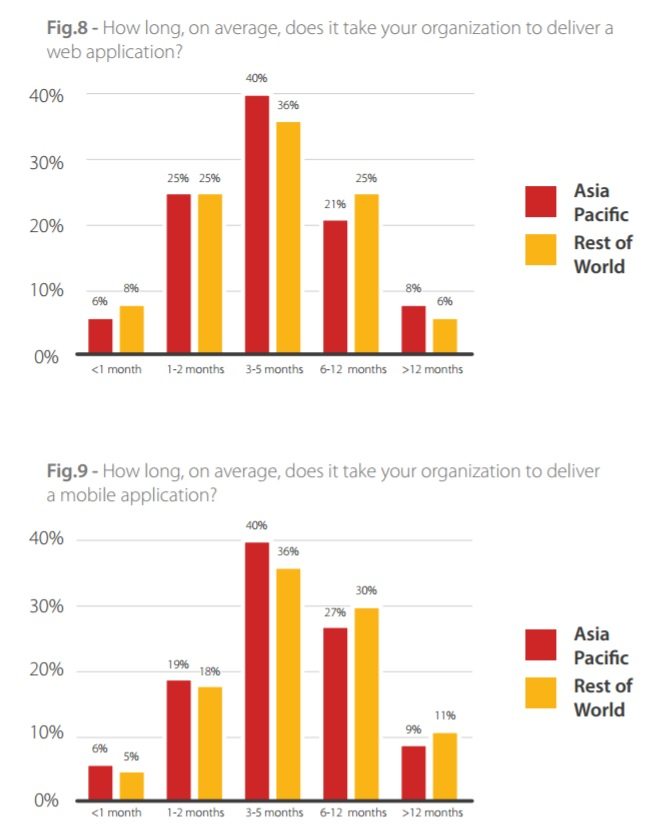 Barriers to success are overwhelming: IT managers face all kinds of challenges when it comes to mobile development. Lack of skills, time and budget were the top challenges.
Mobility requirements are soaring: Mobility was the most common business requirement for apps, up from sixth place in our 2015 survey. In addition, 93% of respondents noted that it was either a requirement or very important to incorporate mobile functionality into their current and future applications.
Experimentation is on the rise: Organizations are focused on finding the right technical approach to building their apps, which has led to significant experimentation. In fact, 44% of IT professionals said they're either using, or considering using, low-code or no-code platforms to support their IT strategy. 43% also said that their organization is enabling citizen developers to take advantage of this technology.
Low-code is growing: Companies that have adopted low-code development platforms are seeing improvements in terms of faster mobile app development times.
The report further stated that to ease the skills gaps and budget constraints, a growing number of companies are relying on citizen developers to help. "Citizen developers" are generally agreed to be non-professional developers who are sanctioned by IT. More than two-fifths of all IT professionals (43%) in the Asia-Pacific region say that their organizations are either already supporting citizen developers or that they're considering doing so. And it's a trend that's on the rise.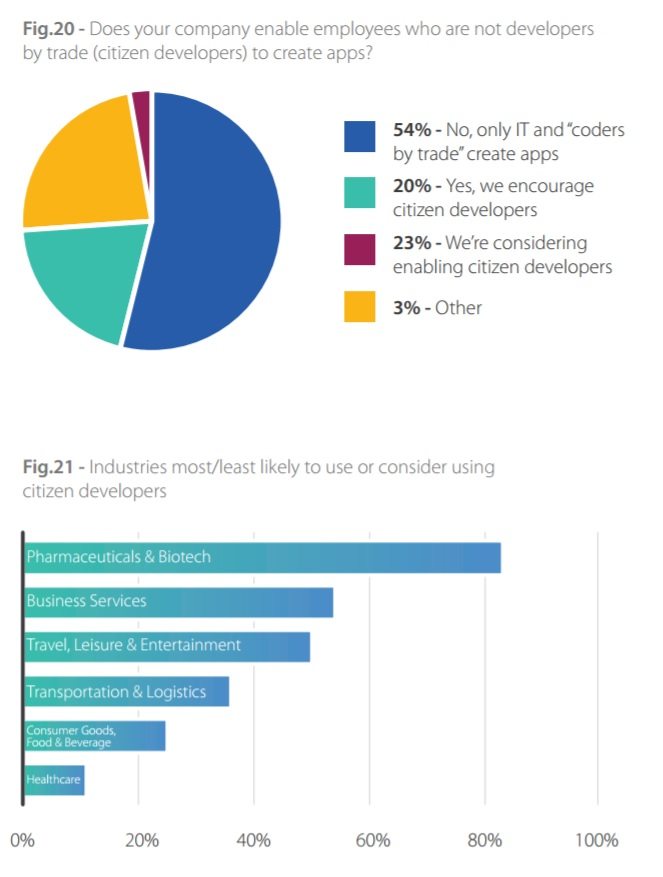 In the face of challenges mentioned above, OutSystems notes that a growing number of organizations are starting to experiment with alternative approaches to app development. As technology matures and the lines between mobile and web app development continue to blur, IT professionals are looking beyond native development to other options. Those companies that are experimenting with low-code development are seeing early benefits, including faster app development times and lower levels of outsourcing.