TransferWise bot: Settle global transactions within Facebook Messenger
service
, has joined the chatbot race by announcing an integration with
Facebook Messenger
in order to allow users make foreign exchange transactions over the chat service. So if you're a TransferWise customer, you can send money, and set up rate alerts, without ever leaving Facebook's Messenger app. As of now, the bot is equipped to setup transfers from the US, UK, Canada, Australia or Europe, while providing guidance through each step.
"Our mission at TransferWise is to bring faster, cheaper, and more convenient international money transfers to everyone in the world. Building the TransferWise bot for Messenger is a great step in that direction," said Scott Miller, Head of Global Partnerships, TransferWise.
"It's also a powerful example of how our API can be used to seamlessly integrate TransferWise into almost any messaging, bank, or business payment system," he added.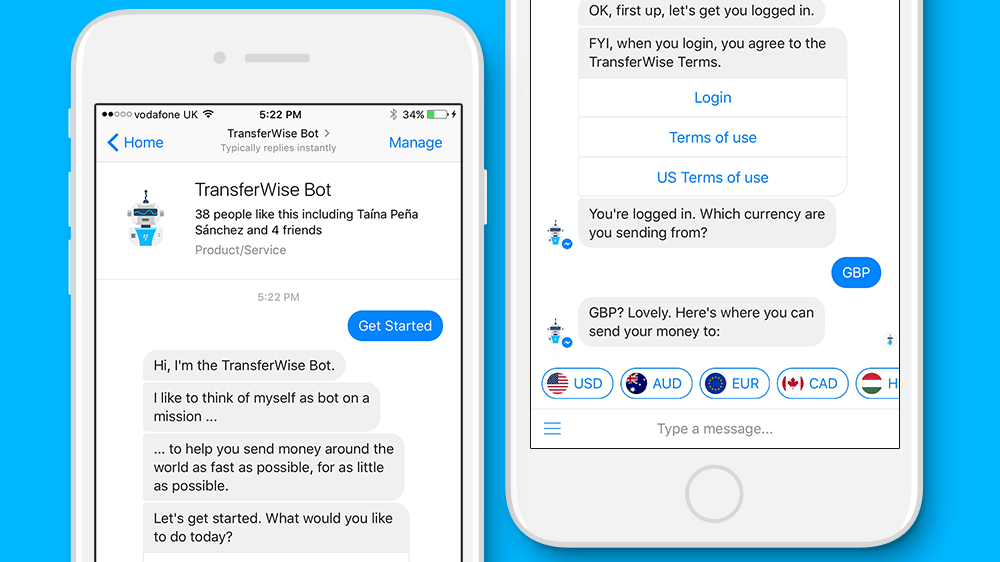 Although in the US, domestic money transfers are possible on Facebook via Messenger, the UK-based startup claims that its service will be the first to enable money transfers on an international basis. With TransferWise
bot
, one can continuously track the change currency valuations and exchange rates by setting rate alerts. You can set up alerts for as many currencies as you like, and the bot will send you an update every morning. And when the rate is right for you, you can ask the bot to set up your transfer. As of now, we have seen
WeChat
, the Tencent-owned Chinese messaging service, as a pioneer in offering chat-based payment systems. This move to integrate payment services in Messenger has pushed Facebook to turn the messaging service into a commerce platform, without letting go of the chat services. TransferWise reportedly operates in over 50 countries now, overseeing approximately $1 billion of transactions on its website each month. The company has revealed plans to soon expand the offering to other countries where it has a footprint.