Cisco launches dashboard for monitoring data-centers
Networking technology
company, Cisco, has introduced a platform designed to help customers gain visibility across everything in the data-center in real time. The Cisco
Tetration Analytics
gathers telemetry from hardware and software sensors, and then analyzes the information using advanced machine learning techniques. It claims to addresses critical data center operations such as policy compliance, application forensics, and the move to a whitelist security model. Its Tetration Analytics platform monitors, analyzes and reports to provide IT managers with a deep understanding of the data center that claims to dramatically simplify operational reliability, zero-trust operations and application migrations to SDN solutions and the cloud.
What was the challenge?
According to Cisco, there is currently no single tool designed to collect consistent telemetry across the entire data center and analyze large volumes of data in real time, at scale. Organizations have performed fragmented tasks without the correlation necessary to address operational issues comprehensively. As a result, these complex, slow and disjointed tools are costly in terms of time, money and lost opportunity. IT managers today are hampered by a lack of visibility and knowledge. Cisco states that IT managers lack pervasive visibility into data center infrastructure and how applications are interacting, which results in operational challenges. Because they are unable to migrate applications to the cloud or set up a Disaster Recovery site effectively with precision and speed, they are unable to adopt a zero trust model as they lack the critical information and resources to implement or maintain it.
How will Tetration help enterprises?
According to Cisco, its Tetration Analytics, will help organizations understand what applications are dependent on each other throughout their data center and into the cloud. It will help enterprises move from reactive to proactive model as it makes informed operational decisions and validates the effect of policy changes before they are implemented. It also searches billions of flows in using Tetration's forensics search engine and user interface and continuously monitors application behavior to quickly identify any deviation in communication patterns. Tetration will help companies enable pervasive and complete visibility across the data center using either server software sensors that require very low overhead, network hardware sensors that monitor packet-by-packet meta data, or both combined for the most complete solution. Tetration executes advanced data center analytics in real time and presents actionable analysis with easy to understand visuals. It delivers information critical for data center operations, such as: application insights, automated white list policy recommendations, policy simulation and impact analysis, compliance management, and network flow forensics. Cisco also claims that this tool can be used to rewind what has happened in the past, view what is happening in the present in real time, and model what could happen. For example an enterprise can make a change before it's executed to understand the impact on applications to enable informed operational decisions. It can help validate if policy changes have actually been applied and taken full effect. And do real-time and historical policy simulation as it can replay what happened in the network at any time.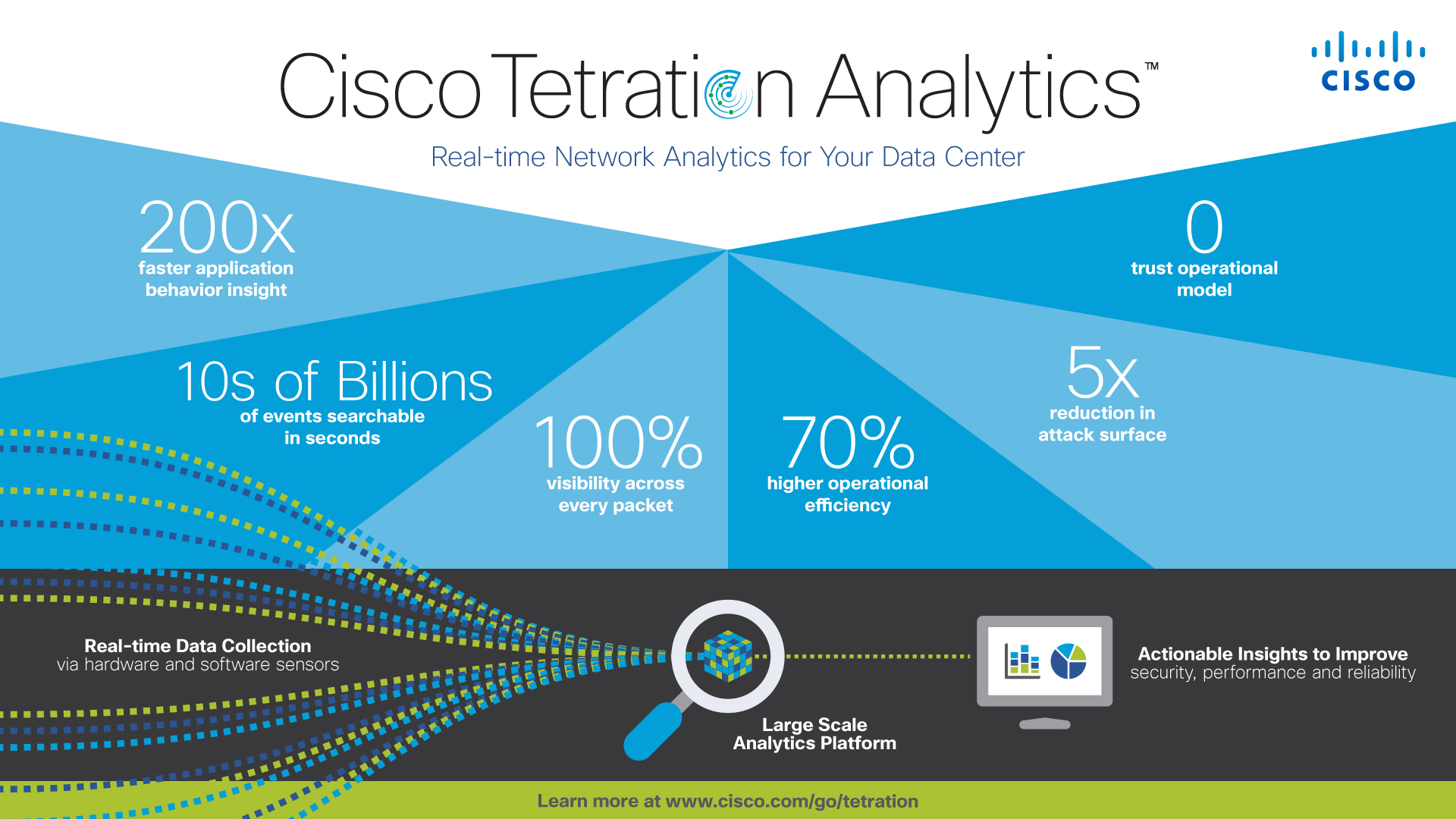 How Cisco Tetration works (Technicalities)
Cisco states that the software sensors are installed on end hosts, either virtual machine or bare metal servers. In the first Tetration release, software sensors support Linux and Windows server hosts, while hardware sensors are embedded in the ASICs (Application-Specific Integrated Circuit) of
Cisco Nexus
9200-X and Nexus 9300-EX network switches to collect flow data at line rate from all the ports. The company claims that a single Tetration appliance will monitor up to one million unique flows per second. Both software and hardware sensors communicate the flow information in real time to the Tetration Analytics platform. The platform can be installed in any data center with any servers and any network switches. Positioned as a 'one touch' appliance, the servers and switches are prewired and the software is pre-installed. Any enterprise can set up Tetration by answering a few questions regarding the data center environment, allowing the Cluster to be configured. As the big data complexity is hidden, there is no special big data expertise that is needed to deploy or operate.
David Goeckeler, Senior Vice President and General Manager, Networking and Security Business Group, Cisco, says, "Gaining much deeper visibility into the data center and automating actionable analysis across a company's infrastructure marks a critical technology advancement in building secure digital business models like cloud, mobile and IoT. We believe the insights we gain from applications and the data center overall will enhance existing software solutions and drive the future development of new advanced software that will improve business operations, efficiency and customer experiences."
The company has announced that Tetration will hit markets in July 2016 and the first Tetration platform will be a full rack appliance that is deployed on-premise at the customer's data center.