Its all about data in Sapho's new release
company
has unveiled the next version of its micro app platform 3.7. According to the company the new version supports integrations with HubSpot and RSS feeds as well as has a couple of features such as role based micro app navigation, write back for salesforce, responsive grids, Oracle EBS integration update, among others. "A core part of Sapho is our Extract, Transform and Notify (ETN) process. By adding smart load filters for systems like IBM Domino and Salesforce in this update, we've made it easier to integrate just the data you need into Sapho. In the world of big data, only a small portion of data in the enterprise is in flight. Smart load filters enable Sapho to only look for changes in data, based on what users specify they want to see," says Peter Yared, Co-Founder and CTO, Sapho.
"What we're finding working with customers is that security roles are becoming more and more important in micro apps. IT and security teams want the user interface to be tailored to exactly what users should have access to. Sapho 3.7 extends security beyond data access and also into the user interface within micro apps including buttons and tool bar items automatically."
HubSpot and RSS integrations
The
HubSpot
integration has been made for addressing challenges that marketing professionals face in enterprises. Marketing departments can receive notifications about new contact subscriptions to their lists, as well as monitor campaign success or failure. According to the company, the HubSpot micro app can also offer write-backs which, Sapho claims makes adding new contact or enrolling existing ones in a workflow easier.
Sapho's
RSS
feed integration lets users distribute data from an RSS feed by just typing in the URL of the RSS feed and getting a pre-built micro app that lets the user browse through all the latest updates.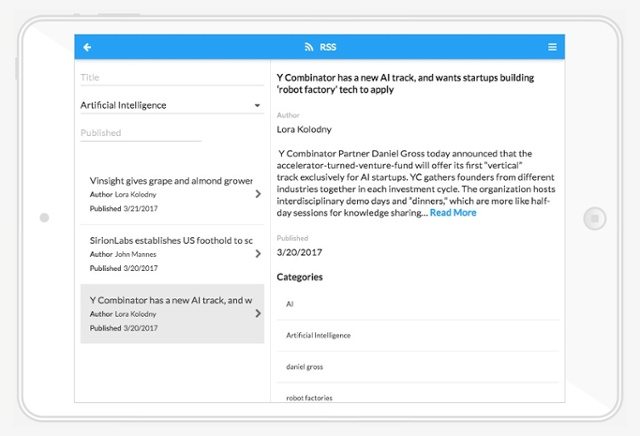 New Features
In Sapho 3.7 the company claims to have implemented improved load filters for Salesforce, ServiceNow, Zendesk, and Concur. Smart load filters are used to efficiently sync data between systems of record and Sapho. With the 3.7 the company states that users can hone in on the data that they want to specifically sync for each integration.
In earlier versions, Sapho supported specific use cases with Salesforce integration that included write-backs to certain Salesforce objects and fields. With 3.7 the micro app company claims that the feature is available for all Salesforce objects and fields. Using this customers will be able to define an update form for every standard and custom Salesforce object, as well as specify what fields will be updated once a user submits the form.
In the 3.0 version, Sapho introduced Oracle EBS integration which has been updated with the launch of 3.7. In addition to expense and purchase orders, the user can manage absence requests as well. The company ha also streamlined its other micro apps to more closely mirror Oracle EBS workflows as well as introduced an employee directory micro app.
In terms of access management, the 3.7 can restrict which users have access to specific micro apps and notifications along with allowing the administrator to apply security settings to buttons and button bar items. If users do not have the appropriate privileges, the component will not be displayed.
Sapho states that it renders all basic HTML tags by default, except ones that are potentially dangerous and could harm the system by opening a backdoor for hacker attacks. But if the user wants to show data from a workflow instance, that contains HTML in the titles of the tickets and does not want the content to render as HTML but show as text instead, Sapho has added a new Escaped HTML formatting option which can explicitly define when HTML rendering should not be applied.
In addition to the Sapho App, which can be installed on any device and rendering micro apps in the browser, the company states to have been working on integrating Sapho into other technologies such as Microsoft Sharepoint widgets and mobility management solutions like AirWatch and MobileIron for publishing. With 3.7 Sapho has redesigned the publish tab for making it easy to set up and publish to all endpoints a user wants to support.